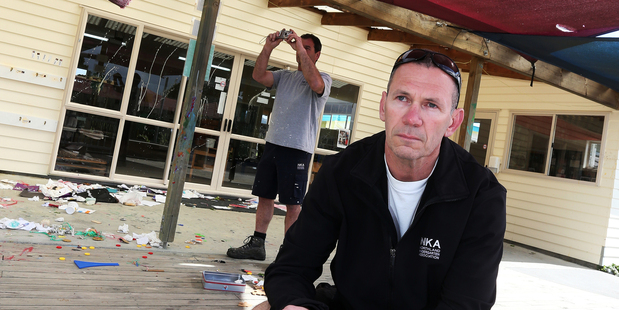 The tiny tots who planted the vegetables and were protected by the shadecloth awnings at the Te Timatanga o Te Matauranga kindergarten at Otangarei were on holiday yesterday.
So they were spared the shock of seeing what young vandals had done, destroying gardens, ripping awnings and strewing rubbish around the Williams Jones Drive kindy where up to 40 youngsters aged 3 to 4 get introduced to education.
Disappointed and annoyed, Northland Kindergarten Association general manager Richard Storey said neighbours had seen a group of young boys and girls attacking the gardens and climbing on to the awnings on Sunday afternoon.
"It's gutting," he said, estimating it would cost about $5000 to put the right the damage, which included three ripped awnings, and replacing sand in the sandpit because of fears it could be contaminated with broken glass.
"If they broke in here and stole vegetables for food I wouldn't care," Mr Storey said.
"But just ripping out the plants is wasteful. We feed the kids twice a day here and these veges could have gone into boil-ups."
The neighbours had told the young vandals to clear off, but they hadn't called police, who were notified after kindergarten officials saw the damage yesterday.
"I understand the neighbours' point of view. This is Otangarei and people don't call the police - but they should, it's their community.
"The kindergarten association is a non-profit organisation and it's sad we are spending about $30,000 a year repairing damage to the 21 kindergartens we operate around Northland."
The Otangarei kindergarten received a similar attack last Christmas. And in March a small whare (building) where children played at the Raumanga Kindergarten was set on fire, just a week after a large sunshade was ripped and damaged beyond repair and decorative ti-tree poles were ripped from a fenceline.
The head teacher at Raumanga, Shelly Prisk, had a similar message to Mr Storey - she pleaded with members of the community to help catch the culprits who are destroying kindergarten playgrounds with vandalism.
"The community will know who the vandals are and we need their help to stop this," Ms Prisk said after the arson attack. "I think we need to target the parents of these children. Do they know where their children are and what they are up to?"