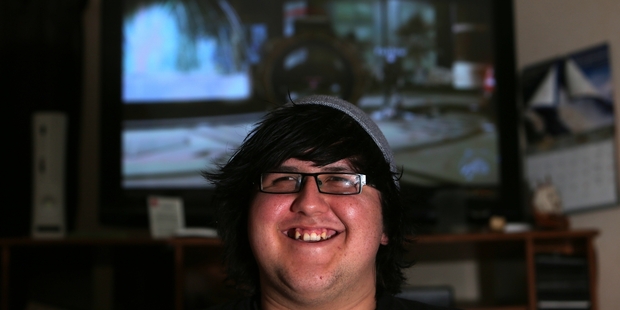 An intense battle played out in Vector Arena with a Whangarei gun-slinger coming out on top.
Caleb Makiri trained for weeks to play against his idol Kim Dotcom in a 'Call of Duty: Modern Warfare 3' battle as a part of the Digital Nationz convention in Auckland on the weekend.
Dotcom played 100 contestants, defeating 99, with the winner set to take home thousands of dollars worth of prizes.
Caleb was the last contestant of the day, and the one Dotcom was most wary of.
"We are friends on XBox Live and we've played each other a couple of times so he knew I was pretty good," Caleb said.
Caleb, who celebrated his 18th birthday at the convention with seven friends, beat Dotcom confidently seven kills to two kills.
"I owned him," Caleb said.
After the fierce eight-minute battle with Dotcom, the digital entrepreneur demanded a hug from his Northland protege.
"He said 'give me a hug, you really deserved it'."
"I look up to him as a role model, I want to be an entrepreneur and do well in business like him," he said.
Caleb said he had played Dotcom in 'Call of Duty' before, and was familiar with Dotcom's tactics.
He said he studied his moves and used them against him.
After the win Caleb and his entourage were treated like celebrities, with plenty of people patting him on the back.
`Call of Duty' is a first-person shooter game, and one Caleb is very familiar with. He was ranked second in the world for `Call of Duty: Black Ops 2', and plays for four or five hours every night, he said.
"It's an addiction,'' Caleb said.
Mum Nadia Kaipo doesn't mind, as long as he keeps on top of his school work.
"I believe he can be the next Dotcom, he can be whatever he wants, the first Dot-co-dot-nz,'' she said.
Caleb is a talented web designer, and is enrolled to study a Bachelor of Commerce at University of Otago next year after finishing year 13 at Kamo High School.
For beating Dotcom, Caleb was presented with a 55 inch LG 3D Smart TV, an LG 3D Blu-ray home entertainment system plus, $1000 from Dotcom himself, and an XBox One when they are released in the country.
Ms Kaipo is being treated to tickets to Alicia Keys and John Legend at Vector Arena with vouchers Caleb won for Vector Arena.