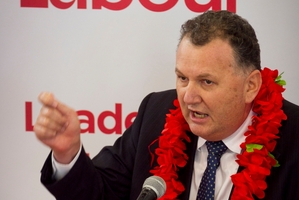 The Northlander in the new shadow Cabinet of Labour leader David Cunliffe says the workload that comes with his six new portfolios is of "biblical proportions".
Shane Jones has been named as Mr Cunliffe's spokesman for economic development, forestry, fishing, Maori affairs and building and is also the associate finance spokesman. "If you know your Bible it says the Devil makes work for idle hands to do. These will keep me busy," Mr Jones said. "It's of biblical proportions."
Mr Jones said he was humbled to be given so many portfolios, although hard work lay ahead for him.
"I hope this will give the chance to show I'm back as a serious politician and that I have completely negotiated my earlier problems."
His new roles on the Opposition's front benches were a sign he was again being taken as a "serious politician". Early in his political career, Mr Jones was found to have booked up blue movies on his parliamentary credit card, causing his rising star to dim.
He said he was particularly looking forward to the economic development portfolio and felt he could benefit Northland in that area. "The North has been abandoned by this regime for so long. My efforts will go into economic development for the regions from the Cape to the Bluff."
Fisheries was another area he had experience in and he said it was too early to make any promises to recreational fishers about changes to snapper catch limits and sizes announced by the Government this month. The snapper bag limit was cut from nine to seven a day and the legal size increased from 27cm to 30cm.
The Labour leadership campaign, in which he took on Mr Cunliffe and Grant Robertson, stood him in good stead for the battle ahead against the National Government, he said.