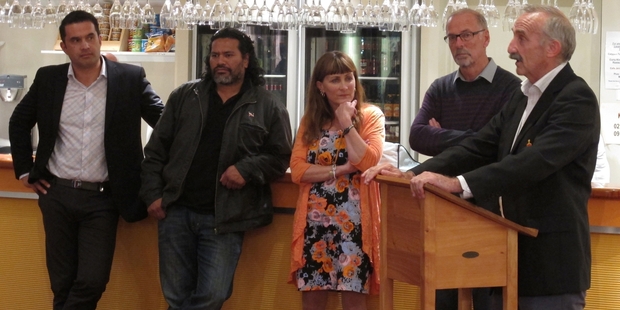 A Maori activist turned mayoral candidate stole the show at a candidates' meeting in Kerikeri.
Five of the seven contestants in the race to be the Far North's next mayor - Wayne Brown, John Carter, Ann Court, Mita Harris and Rueben Taipari Porter - delivered speeches and answered questions at the Turner Centre on Friday evening.
Although the 100-strong audience was mainly Pakeha and over 50, it was the Maori protest veteran with the long hair, leather jacket and references to Te Tiriti who charmed them with his eloquence, humour and honesty.
Mr Porter, who lives in Ahipara, wanted to see all Far North people engaged in local elections. Under-50s made up 55 per cent of the district and Maori 42 per cent, yet both groups were woefully under-represented at the meeting.
''I don't see many young people or Maori here. If we want to raise this district we have to get them in as well.
My people are languishing at the bottom, I want to lift everyone together. Just because I'm pro-Maori doesn't mean I'm anti-Pakeha.''
Mr Porter said failing to engage young people now would come at a high price later: ''You can't just say, 'You're not a ratepayer, so we're not going to listen to you'.''
As well as appealing with his inclusive message, Mr Porter charmed with his honesty. Asked about Kerikeri's sewerage scheme, he replied: ''To be honest I couldn't find this hui, let alone fix your sewerage problems.''
Ms Court called on voters to deliver a mix of experience and new faces around the council table.
''I sense a desire for a change in leadership, but now is not the time to throw the baby out with the bathwater,'' she said.
She also urged voters to avoid candidates who were ''passengers'', along for the ride but not planning to do any real work. She stood by her track record and urged voters to put a woman in charge: ''As the Chinese proverb says, 'Man who says it cannot be done, should not interrupt woman doing it'.''
Mr Brown said the council had weathered the recession ''in great shape'' with reduced debt and a jump in the local government rankings, while Whangarei had headed in the opposite direction. At the same time the council had completed major projects, such as Te Ahu, with announcements on new timber and milk processing ventures expected soon.
Mr Carter said much had been made of him being a career politician, ''like it's some kind of disease''. However, he was proud of his achievements as MP and the thousands of people he had helped. The council was a business he understood, and said he had turned around a near bankrupt Hokianga County Council. The current council had brought down debt, but at a high cost in terms of deferred maintenance and staff cuts.
Mr Harris said his strength was bringing communities together. One of his top priorities would be to devise a youth strategy to help keep young people out of trouble and persuade them to stay in the Far North. The leader of Kerikeri's army cadets and other youth initiatives, Mr Harris' concerns for youth had been fuelled by the suicide of two young people close to him in past year.
Questions put to the candidates focussed on Kerikeri's sewerage scheme, mining and pronunciation of Maori. Kiriarangi Rameka, 16, wanted to know what efforts the candidates had made to understand the issues facing youth.