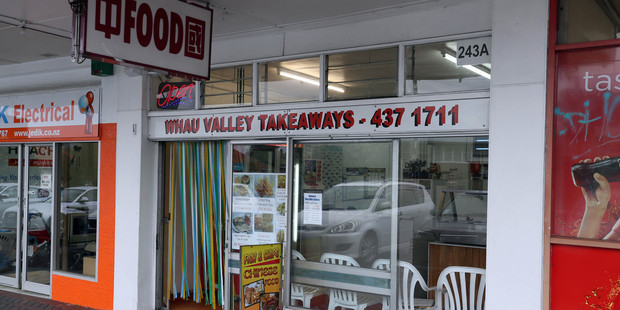 A worker at a takeaway shop confronted by a knife-wielding robber struck back by slamming a metal bar on the counter, which was enough to scare off the masked man empty-handed.
The worker at the Whau Valley Takeaways did not want to be named but spoke about the traumatic incident, which lasted less than 10 seconds just after 9pm on Wednesday.
"I could see him walking towards the shop, taking big steps and walking fast. I felt something bad was going to happen," he said.
The would-be robber, with a scarf over his face and wearing a hooded sweatshirt, entered the shop but was unable to get behind the counter.
"He was waving a knife, asking for money."
The worker said he swore at the robber, telling him to leave. As he did so, he grabbed a metal bar from beneath the counter and slammed it down hard.
"It was loud, like fireworks. He just ran off and I rang the police."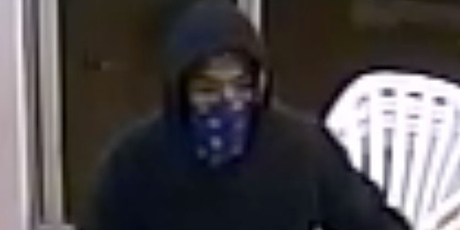 A police dog and handler tracked where the robber was last seen running along Burling Ave to Jack St, before losing the scent.
The worker said he was not scared at the time but later realised the enormity of the situation.
"We are very glad we are safe."
He said his family had owned the business for 11 years, and his father and a part-time worker were in the shop at the time of the attempted robbery.
It was the ninth robbery in Northland in a month, in which people, all believed to have been men, armed with weapons have confronted business owners and demanded money or cigarettes.
Police are appealing for help to identify the latest robber and have released a security camera picture.
He was wearing a dark-coloured hooded sweatshirt with the hood up and had concealed his face with a bandanna. He was also wearing dark-coloured long pants.
Detective Sergeant Shane Pilmer, from the Whangarei Criminal Investigation Branch, said people in the community would be able to identify the robber.
"We need their help in identifying him. He will be someone's family member and someone's friend," Mr Pilmer said.
Anyone with information can contact Mr Pilmer on 09 430 4589 or Crimestoppers anonymously on 0800 555 111. Any information would be treated confidentially, he said.
Meanwhile, an experienced criminologist said communities would not get used to the serious robberies.
Greg Newbold, who is also a professor of sociology at Canterbury University, said those responsible for the string of aggravated robberies were most likely "loser idiots and no-hopers".
"For the most part, they are acting out their own movies for minimal profits and the chances of getting caught are high, as are the penalties.
"The people doing the crimes have no concept of the impact on the victims."
Mr Newbold said the community did not become desensitised to the serious crimes but instead became outraged.
"The more it happens, the more outraged the community will be."