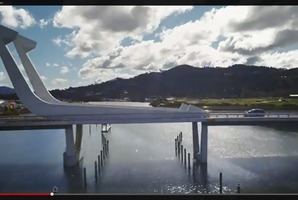 Whangarei's new bridge has hit the small screen across New Zealand - and potentially worldwide.
Te Matau a Pohe features in the new television advertisement for car manufacturer Kia's new model, the Cerato Hatch.
Whangarei acting mayor Phil Halse says he has been told it will not only be shown on television networks across New Zealand, but potentially in Australia and South Africa. "We hit the big time."
The advertisement has also been loaded to YouTube by Kia New Zealand, with nearly 400 views by 4pm yesterday.
"Congrats to Kia for picking such an iconic symbol for their ad," Mr Halse said.
"It's very catching, very modern, and we are very pleased to see something this council was behind attracting business interests." The council did not broker any deal to let Kia film, Mr Halse said. "It's a public space."
The YouTube video has attracted a number of likes on the Northern Advocate Facebook page. Barbara Derrick said she was walking on the bridge at the time they were filming the ad.
"They did over 60 takes just for five secs of ad," she posted. "They stopped the traffic at both ends to do this."
You can see the video on the Advocate's Facebook page.