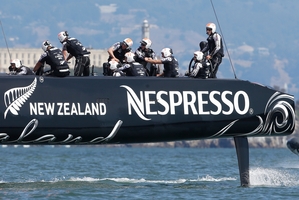 Northland workers, schoolchildren and sailors are in the grip of America's Cup fever, a yacht club commodore says.
"It seems to have captured a lot of imaginations," said Marsden Yacht and Boat Club commodore Steve O'Brien.
Although Marsden had not held any race events, club members were "keen as mustard and everybody's watching it".
More than 500,000 Kiwis tuned in to watch Team New Zealand beat Oracle in the first America's Cup races on Sunday last, topping the number who watched the All Blacks overcome Argentina the night before.
The audience for this year's sailing event has already beaten the highest rated race in the 2007 America's Cup in Valencia, which attracted 270,300 viewers. However, those races were held about 2am NZ time.
Mr O'Brien said his work colleagues at a freight company were all glued to the screen while the races were on, even those who would not usually watch yachting.
His children and their school friends were "all talking about it', with one of his teenage sons preparing a school presentation on the America's Cup.
"He lives and breathes it at the moment."
He hoped the America's Cup coverage would boost club membership.
"I think in the past people have seen sailing as an elitist sport, but it's not."
The club's junior Learn to Sail programme already had 12 enrolments for this year, compared to five last year.
Local clubs had started an inter-club series and were working together to improve the sport.
Yachting New Zealand expects the America's Cup to attract new enrolments - even if Team New Zealand loses.
"Regardless of the outcome, I think there's been enough of a buzz around it," said participation and development manager Andrew Clouston.
"It's been more accessible this time, it's a little bit more prime-time, the boats are excitingly new, they're different.