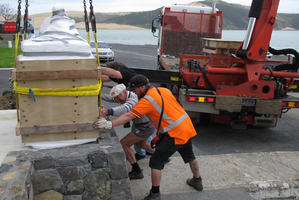 Opo is back.

A cast bronze version of the iconic statue which graced the Opononi waterfront until the boy rider's head was broken off two years ago arrived in the Hokianga town last Saturday.

The new statue is the same size as the original but mounted on a three-tonne black granite base.

It will stay wrapped up until its official unveiling at 11am this Saturday.

The statue commemorates New Zealand's most famous dolphin, Opo, which spent the summer of 1955-56 frolicking with children in the shallows off Opononi. Opo is thought to have been killed by a fisherman's explosives.

The original statue was carved from Hinuera stone by sculptor Russell Clark in 1960.

A small crowd of locals watched the delicate operation as the new sculpture was lowered into place outside the Opononi Hotel after a four-hour trip from an Auckland foundry.

Foundryman Joe Crowther, of Progressive Castings, used the restored original to make a silicone rubber mould and a wax version of Opo. The new sculpture was then cast in eight pieces using the lost wax method.

Mr Crowther said he had gone to great lengths to make it vandal-proof.

The statue was fixed to a three-tonne block of granite and had a half-tonne ceramic core under a thick layer of bronze to give it strength. The dolphin, the boy and the sea were coated in different patinas, but the colour would change over time as the bronze reacted with the environment.

Mr Crowther said the company made ''anything and everything'' from metal, including a life-size elephant for artist Michael Parakowhai. What made the Opo statue unusual, however, was its historic and iconic character.


Opononi Dolphin Restoration Committee member George Goodhew said it was great to have Opo back.

''It's been a lot of time, a lot of meetings and lot of decisions,'' he said.

The original is on display at the Hokianga Museum, on Waianga Place next to Opononi Area School.

The committee is made up of representatives from Opononi Lions, Hokianga Historical Society, Hokianga Tourism Association and the community. The new Opo will be unveiled by Far North District councillor and Lottery Environment and Heritage Committee chairwoman Sally Macauley.