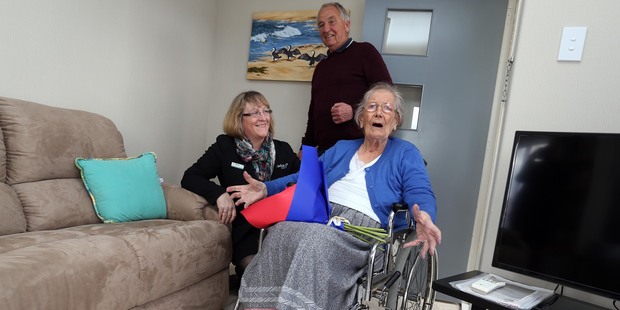 In an emotional home-coming, 92-year-old Pearl Sanger described her refurbished house as "Buckingham Palace" and was in tears as she thanked those responsible for the impressive home make-over.
Nearly seven weeks ago thieves broke in through a window, stole her television and cash from a money box then torched the single-story house in Boundary Rd, Tikipunga. It was the same day Pearl was due home after a week in Whangarei Hospital recovering from a chest infection.
Since then Pearl has been a resident at Radius Rimu Park rest home in Kamo, while a team of builders turned the charred and smoke damaged structure into a beautiful home. Yesterday Pearl returned to the place where she has lived for the past 30 years.
After being wheeled through the front door into the lounge she exclaimed: "Oh my goodness me! Oh no! This is gorgeous."
She added: "When I came out of this place to go to hospital it was 'dumpy' to say the least.
Now I've come into Buckingham Palace."
Pearl gave her nephew Ray Broad a kiss but he was quick to point out the person responsible for the transformation was Dave Roberts and his team of builders. Pearl embraced him and gave him a kiss, thanking him for all his work.
After inspecting the kitchen, laundry, bathroom and bedrooms Pearl was overwhelmed.
Wiping the tears she said: "I feel like I'm the luckiest person on earth."
Mr Roberts, of Ensura Building Services, said seeing Pearl's reaction had made it all worthwhile. "It was horrible what these kids did to her. Now she can live in comfort."
He said his workers put a lot of their own time into finishing off the house.
Bunnings had also helped with the donation of wood to build a ramp to the front door. Vine Appliances had arranged for a free heat pump and installation. Mr Broad said he knew his aunt would be gobsmacked.
"She was really overwhelmed and was actually in tears."
The community response to her plight had been amazing, he said.
"It was phenomenal. There are a lot of good humans out there."
Pearl had adjusted to being home quickly, making herself lunch and a cup of tea.
In the morning, residents at Radius Radius Rimu Park gave Pearl morning tea and a tearful farewell. Manager Ann McAteer said it had been a pleasure to help Pearl during a stressful time.
The farewell had coincided with a visit from Whau Valley School's kapa haka group, who sang for about 15 minutes.
"I'll not forget this in a hurry," Pearl told the performers.
After the arson, two 15-year-old males were arrested by police and are to appear in the Youth Court. Mr Broad said he would be following their progress through the justice system.