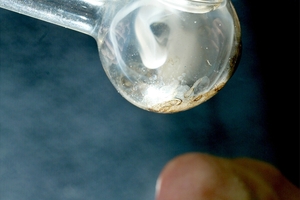 Police are urging Northland businesses to step up security measures as ingredients used to make methampethamine are being targeted by thieves.
Whangarei/Kaipara police area commander Inspector Tracy Phillips says there has been an increase in interest and people trying to steal "chemicals of interest" - iodine, hydrogen peroxide and organic solvents - from local businesses. "These substances are being targeted by unsavoury characters."
Methamphetamine, known as P, is a Class A controlled substance under the Misuse of Drugs Act 1975 and anyone caught manufacturing, importing or dealing the drug faces a maximum sentence of life in jail.
While the theft of ingredients to make P has long been a concern for police, Ms Phillips said reports of thefts and inquiries from unsavoury characters have increased recently.
"We've had a couple of incidents lately," she said. "There have been people making inquiries [about iodine] that aren't wanting it to treat wounds."
She is urging local businesses to pay attention to customers inquiring about these products, to avoid possible burglary or aggravated robbery.
And so far some attempts have been made, specifically during the day. "These people might try and buy them, but they are more likely to try steal them."
Ms Phillips is urging businesses to keep a close eye on customers interested in these chemicals, and to take down the registrations of cars driven by suspicious looking people.
"My main message would be to encourage businesses to be aware that not all people making inquiries have honest intent."
"If they have people inquiring that don't look genuine, they should contact police and look into increasing their security measures around those substances."
Ms Phillips said the three main types of businesses targeted were chemists, farm supplies outlets and hairdressers, as they were likely to stock those types of substances.
One Northland business, recently targeted by thieves for one of the substances, wishes not to be identified for fear of attracting other thieves.
The owner suspects the thieves came in several times before attempting the robbery, asking staff questions about the specific substance.
They parked in front of the business, so the owner was able to get the registration number of the car, which was reported as stolen.
The owner has now installed CCTV cameras and educated staff to keep an eye out for suspicious looking customers.
In April, Northland police seized around $200,000 worth of assets after searching a Pataua South property and a Parua Bay launch in relation to methamphetamine manufacture charges.
And in mid-November last year, nine people were arrested and $2 million worth of assets seized after police shut down a major methamphetamine manufacturing operation at Whangape.
According to Statistics NZ, there were 188 recorded offences in the manufacture of illicit drugs in the Northland region in 2012.
More than 1800 clandestine methamphetamine labs have been found in New Zealand since 2000 - the majority in the upper North Island, with Northland being the sixth highest region for discoveries of clandestine P labs.