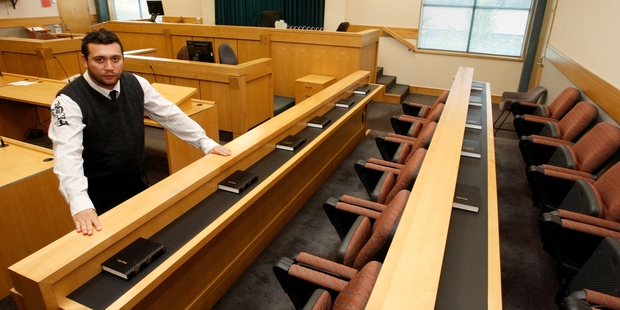 Thousands of Northlanders are shirking jury duty every year.
But the Justice Ministry says measures introduced to curb people dodging their civic responsibility are paying off.
Nearly half a million Kiwis have failed to show up for jury duty nationwide since October 2010.
More than 8200 people skipped jury service in Northland last year, and more than 15,000 in 2011. Between January and June this year, more than 2350 got out of service.
About a quarter of those dodging jury duty had no legitimate excuse, with most Northlanders saying they couldn't serve because of work obligations. Thousands more opted out because they were over 65.
Many others cited family commitments and personal circumstances, while more than 100 said they couldn't be on a jury because of religious beliefs.
Whangarei lawyer Dave Sayes said people often put their personal circumstances above their public duty.
"The biggest difficulty that most people have is ... a lot of people who are summonsed to come to jury service are not in a financial situation where they can afford to have four or five days off work."
The distance some had to travel often proved difficult, as did child minding obligations. But a legislative change to enforce tougher penalties wouldn't necessarily fix the problem, he said.
"If you've been summonsed to sit on a month-long methamphetamine dealing trial and you're a person who's got a business to run and you get fined $750 ... are you going to take your $750 as opposed to losing potentially $5000 to $10,000? It comes down to economics and people's obligations to their children."
From October 2010 until June this year, 478,470 New Zealanders shirked jury duty nationwide.
Of these, 101,916 had no legitimate reason while 100,643 deferred the service to a more convenient time.
District courts general manager Tony Fisher said the ministry had introduced two key changes to the system to improve attendance since 2010.
Jury district boundaries were extended from 30km around each courthouse to 45km, and jurors could now postpone service to a more convenient time - rather than being excused outright. APNZ