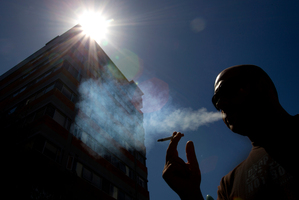 Banning tobacco from dairies won't have the desired effect as long as people are willing to buy cigarettes for minors, a Northland principal warns.
New research from the University of Otago calls for a ban on cigarette sales from dairies and in areas near schools.
Conducted by the Cancer Society social and behavioural research unit at Otago University, the research is the first to look at the location of tobacco retailers around the country.
The study found that almost half of all New Zealand secondary schools are within 500 metres of a shop that sells tobacco.
Tobacco was also more easily accessed in poorer neighbourhoods - contributing to higher smoking rates among "socio-economically disadvantaged" groups.
"This widespread availability makes it harder for people to quit smoking and easier for new smokers to take up the habit," the report said.
Bream Bay College principal Wayne Buckland said he couldn't see how banning cigarettes from dairies close to schools could "practically work".
"Obviously, as a school we're happy the overall trend in New Zealand is for smoking rates to decline in schools."
But, measures like restricting sales at dairies weren't likely to be effective as long as there were people willing to provide minors with tobacco, Mr Buckland said.
"And you're not going to stop the parents who do supply their kids with cigarettes."
Changes to remove cigarettes from view in shops had helped bring rates down, but often it came down to individual retailers and how well they managed their staff.
Underage smoking rates had dropped in Northland over the past few years, and much of that was owed to ongoing advertising campaigns.
"Keep on doing what we're doing, and hopefully in 10 years' time we won't need the discussion at all."
According to the research, despite legally having to be 18 to buy tobacco, a third of minors still get their hands on cigarettes from commercial sources.
The researchers want the Government to introduce a "comprehensive" range of tobacco control measures, including licensing for all tobacco retailers.
Other options include banning some types of shops, like dairies, from selling tobacco and prohibiting tobacco sales in certain zones, such as near schools.