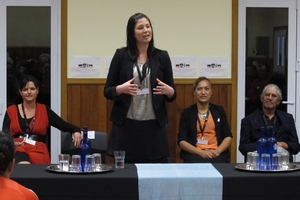 The newly elected Far North District Council includes the district's youngest-ever councillor and a man who chopped his leg off in a horror accident halfway through the campaign.
Willow-Jean Prime, 30, a Moerewa lawyer of Te Kapotai, Ngati Hine and Ngapuhi descent, gained 4286 votes in the Bay of Islands-Whangaroa ward in her first foray into politics. Her tally was second only to deputy mayor Ann Court's 4830.
"I'm just really pleased and overwhelmed with the support for somebody who's standing for the first time, and for somebody who's the youngest candidate," she said.
Ms Prime said she was excited about her new role and intended to give the job her best shot.
Her priorities were engaging youth in local government, creating vibrant communities and boosting economic growth while taking care of the environment.
Meanwhile first-time candidate John Vujcich collected the highest number of votes in the Kaikohe-Hokianga ward, out-polling several long-time councillors.
Mr Vujcich was in the news last month when he lost part of his leg in a rotary slasher in a horror accident on his Kaikohe farm.
Election weekend was the first time he was allowed home from Whangarei Hospital. He returned on Sunday afternoon and does not yet know when he will be discharged.
Mr Vujcich said his family had a celebration on Saturday but it was more about being home and being alive than about getting on to the council.
Feedback during the campaign had convinced him he had a lot of support but he was surprised to be the highest-polling candidate. He expected to be at the first meeting, likely arriving in a wheelchair.
His top priority was empowering people and communities. He wanted to see community boards given greater powers, particularly if Northland ended up as a single unitary authority.
Mr Vujcich said the accident, and the will power he needed to survive, had given him an inner strength he hoped to be able to draw on as a councillor.
Including the mayor, the new council is an even split of five men and five women, five new and five returned councillors.
Councillor results
Elected members indicated with an asterisk. Mayoral results have been published already, community board results will follow.
Te Hiku ward: Colin Kitchen* (3208 votes), David Collard* (2464), Mate Radich* (2069), Monty Knight (1860), Hazely Windelborn (1299), Bryce McDonald (1015), Ken Mullarkey (979), Helen Munro (567), JT Tahana (405), Rangitane Marsden (476), Peter Furze (452).
Bay of Islands-Whangaroa ward: Ann Court* (4830), Willow-Jean Prime* (4286), Di Maxwell* (2464), Tania McInnes* (2457), Harko Brown (1985), Dave Hookway (1863), Steve McNally (1837), Stephen Timings (1733), Doug Schmuck (1442), Jerry Twigden (1194), Craig Ambler (1148), John Davison (1119), Martin Leiding (1074), Hugh McKechnie (1022).
Kaikohe-Hokianga ward: John Vujcich* (1305), Sally Macauley* (1244), Laurie Byers (1073), David Williams (1031), Ken Rintoul (663), Mike Fitzgerald (557), Timi Ngatai-Haenga (471), Babe Kapa (458).