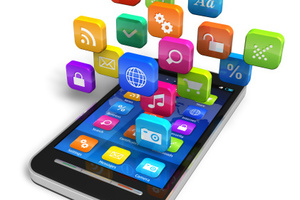 You've bought your smartphone or tablet. It has revolutionised the way you work already. Now it's time to buy some gadgets to make your phone even more indispensable.
Did you know you can use your phone as a scanner, thermometer, credit card terminal? Or attach a telephoto lens to it.
Simple but useful gadgets
The simple, but useful category has a whole pile of reasonably priced gadgets that many a small business owner would find highly useful.

Docks: a standard smartphone or tablet dock allows you to charge and sync the phone on your desk in an upright position so you can use it more easily. Also popular are keyboard docks and cases, which enable the smartphone or table to be used with a standard QWERTY keyboard.
Waterproof phone cases: If your work involves any chance of getting wet, a purpose built dry bag or waterproof case allows you to use the phone, whilst protecting it from moisture.
USB car charger: These simple devices enable you to charge your smartphone or any other USB device through the cigarette lighter plug in your car. Business owners often find a dual USB charger useful.
External battery cases: is your battery forever running out? It's possible to buy spare batteries and also external battery cases, where the battery, as the name suggests, is in the case. This case will give you hours of extra connectivity.
Bluetooth Headsets: talk to customers while you drive or keep using your hands to work. A headset is a great time-saving device for business owners. They're particularly good for important business calls in noisy environments such as airports. Wireless, touch activated headsets add another layer of functionality that is well worth investing in if you spend a lot of time talking on your smartphone.
Blue tooth speaker phone: don't risk getting an infringement notice for talking on the phone while driving. Speakerphones are cheap and easy to use. A good one can also play music or podcasts direct from your smartphone.
Car mounts: you can use your smartphone as a GPS without a car mount. It's just easier with a mount, which allows you to mount your phone to the windscreen.
Clever gadgets
It's astounding what some clever inventors have thought up to plug into your smartphone. In some businesses they will be invaluable.
Thermometer: the food inspection thermometer from iCelsius could be phenomenally useful for those in the food industry. It not only measures temperature of food, but logs the data, to show you or your employee has done the job.
CCTV: smartphones can be turned into security cameras. There are also purpose-built security cameras that are designed to work with smartphones.
Credit card reader: the SwipeHQ reader (not yet available at the time of writing) will allow Kiwi businesses to swipe credit cards through their smartphones and tablets. That enables credit card processing on the fly without the need for an expensive EFTPOS machine.
pH probe: do you need to do environmental testing, effluent monitoring or commercial swimming pool maintenance? Just plug in the pH probe to your iPhone and take a measurement.
External microphone: get better audio when you record customer testimonials, or other interviews.
Telephoto lenses: if your business needs to take photos it might be worth buying an external telephoto lens. You can also buy an external flash.
Solar chargers: do you work in the great outdoors away from a vehicle or power source? A solar charger may be the answer. An iPhone will recharge in a couple of hours of full sun.
Finally, many of the best business gadgets and accessories are designed for Apple devices. Many can be used on other smartphones with the help of a 30-pin Dock Female to Micro USB Male converter adaptor.

Links:

EFTPOS: The Basics for Business
http://www.nzherald.co.nz/news/article.cfm?c_id=1502221&objectid=10848692
Lens makers turn focus to smartphone cameras
http://www.nzherald.co.nz/technology/news/article.cfm?c_id=5&objectid=10779087
Tablet, smartphone or both
http://www.nzherald.co.nz/news/article.cfm?c_id=1502221&objectid=10837673
In a shed near you
http://www.nzherald.co.nz/news/article.cfm?c_id=1502221&objectid=10828137
Why faster broadband is better for your business
http://www.nzherald.co.nz/news/article.cfm?c_id=1502221&objectid=10823192
Tradespeopole Taking on the Tech
http://www.nzherald.co.nz/news/article.cfm?c_id=1502221&objectid=10844361
Tablet computers beneficial for all businesses
http://www.nzherald.co.nz/index.cfm?objectid=10846000