Rotorua has a range of activities for a mother and daughter weekend away, discovers Helen van Berkel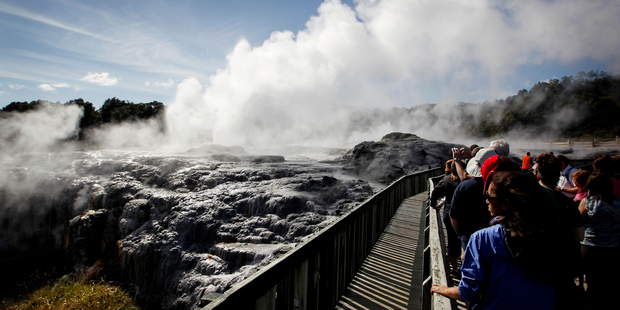 Dinner at Grandma's is always a wondrous affair - she can make a gourmet meal out of a piece of toast. Tonight is going to be extra special because the number one granddaughter is providing the vittles. Even Grandad is impressed with the 1.2kg trout Grace slaps on to the kitchen bench. Only that morning the trout had woken up in its Ngongotaha trout hatchery pond with its 5000 or so siblings, stretched, yawned and had a bite to eat - a bite attached to Grace's rod. And that was the end of life in the pond for Miss Trout.
My daughter is one of about 250 kids who pours into the hatchery's Paradise Valley grounds to take part in take-a-kid-fishing day, held four times a year. You line up and get a licence - a government requirement, no exceptions. Members of the Rotorua Anglers' Association give up their Sunday mornings to show kids aged 6-14 how to cast: flicking up the rod, back and forward, the line zinging through the air to land tidily on the ground. Trout bred here are released into lakes and rivers around the country.
Then it's pondside, where more volunteers line up to help. The water roils with fins and iridescent backs and, within seconds, Grace hooks a fish and her assistant is helping her land it in a net.
Grace, buzzing with her new-found fisher-girl talent, immediately texts Grandma to get out her recipe books. As I look at the excited youngsters lining up in the shade of the lush bush, it strikes me how many are accompanied by grandparents. Trout fishing is clearly a family activity spanning generations and it's no wonder the hatchery insists that people book. For us though, it is a girls' weekend and we are in Rotorua for a school holiday last-hurrah.
We base ourselves at the Cedarwood Lakeside Resort which is, as the name suggests, on the shores of Lake Rotorua. First stop: the Agrodome. This sheep enterprise is a star in my daughter's heart: it is the birthplace of Little Baa, a gift from the aforementioned grandparents and her special stuffed toy since she was a baby.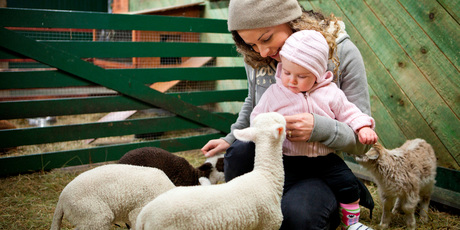 As the rain pelts down outside, we watch New Zealand's sheep breeds file on to the stage: the merino is favoured for its wool, the border leicester for its breeding, the poll dorset for its meat.
They even made the backbreaking job of shearing look like fun. The Agrodome Show is well done, interesting, informative and interactive. The children - and adults - line up for a chance to milk a cow.
Newborn lambs pile on to the stage and snatch at their bottles of milk (the host has to stop little Kevin from Korea sipping his).
As well as the farm show, the Agrodome offers farm tours, a shearing museum and a nursery which, on this day, fills with cute, cuddly little lambs.
Rainbow Springs Kiwi Wildlife Park always has something new on offer. We have not seen the bird show before, nor the Big Splash. Unfortunately we still haven't seen the bird show as showers mean it is cancelled but we ride the Big Splash until we decide our pants were well wet enough.
We see a prehistoric New Zealand before human habitation, and the bush shrieks with birdsong. Conservation is a big part of the park's ethos: the folk at Rainbow Springs are determined that the kiwi will not go the same way as the roll call of the feathered treasures we have lost: 57 breeds since humans first beached canoes on our islands, including 14 moa species, 11 rails, six wrens, two eagles, and of course, the huia, extinct in 1907.
Our ticket gives us entry to the springs until 10pm and we return after dinner to see the kiwi in the nocturnal house. We tiptoe through the kiwi house watching the birds going about their business mere centimetres from us, unseparated by glass.
The showers continue as we left Rainbow Springs, ready for something a little more physical. Sometimes my girl takes a little persuading to get wet, dirty and cold. And that is next on the list: mountain biking at the Whakarewarewa Redwood Forest.
You don't have to if you really don't want to, I assure her, but at least give it a reasonable go.
Affable Carl meets us in the carpark and fills us in on some park facts: the working forest has more than 100km of trails developed by mountain bikers for mountain bikers. There are grades from beginner - which we will be doing - through to world champion level. Carl has been riding here since he was 5, aboard a Raleigh 20.
We saddle and rig up with safety-gear. Carl has a daughter about Grace's age and has just the right manner of encouragement as he rides behind, gently instructing loosen wrists, elbows up, flat feet, keep the momentum going. I close my eyes to the potential broken bones lurking in tree stumps in the branches and the sometimes steep drop-offs.
After an hour, the child not only shows no signs of tiring but begs for more. Admittedly, it doesn't take much for a daughter to impress her mother, but even Carl is surprised as Grace tackles increasingly difficult trails.
When Carl stops to talk to a forest ranger, I turn around and Grace is gone - riding the challenge trail. I later learn that people are regularly carted off in ambulances from this trail. Fortunately, I do not know that little piece of information while watching Grace jumping and soaring like a pro.
Both of us welcome the soothing water of the Cedarwoods' hot tub that afternoon.
I have one more surprise for Grace. We are doing this weekend on a budget of about $100 a day. Luckily fishing at Ngongotaha costs only $3 so a thermal park visit will not break the budget.
Te Whakarewarewatangaotoopetauaawahiao, or as it is best known, Whakarewarewa, also houses Te Puia, or the national Maori Arts and Crafts Centre of New Zealand. We watch Maori carvers and weavers at work and look on as tourists receive an official welcome on the marae. No matter how many times I see the leaping warrior, threatening with his taiaha, or hear a welcoming karanga, it still sends shivers up my spine.
The highlight is lunch. Our guide Paul McGarvey explains that local Maori would simply dig a hole in the ground and put their food in it. The result is a steam box: similar to a hangi but without the smoky taste. The famous Rotorua stink doesn't taint the food, either: it comes out moistly steamed, a delicious meal of potato, kumara, corn and chicken. And as we eat, the pohutu geyser blasts off almost right next to us. I've never had a picnic like it.
The meal at Whakarewarewa is one of the tastiest we have on our trip, although Rotorua offers a veritable smorgasbord of options. Our other meals include a mixture of Moroccan and Mexican at Abracadabra.
My seafood terrine contains a satisfying mix and quantity of fish and shellfish and Grace has no complaints about her calamari and churros.
On the Saturday night we try Japanese, taking our seats in the tiny Mr Yakatori in the Distinction Hotel. I am more than happy with my beef and mushroom kebabs and Grace devours her scallops and bacon.
But our next dinner is going to be trout back home - and how does Grandma cook it? She fillets it, sprinkles it with wine, butter, lemon juice and seasons it with parsley, salt and pepper. She wraps the fish in foil and grills it for about 20 minutes. And it is divine.
Thanks Grandma.


Travel Info
• Cedarwood Lakeside Holiday Resort (07) 345 7773
• Abracadabra Café and Bar (07) 348 3883
• Agrodome (07) 357 1050
• Rainbow Springs (07) 350 0445
• Mountain bike Rotorua 0800 MTB ROTORUA (0800 682 768 6782)
• Mr Yakatori (07) 349 5207
• Ngongotaha Trout Hatchery (07) 357 5501
• Te Puia (07) 343 1865