So you've been tasked with organising a hen's party, but you're keen to stray from the typical debauchery borne of karaoke and cocktails. One option is fleeing the city and swapping novelty cakes and forced craziness for a weekend of fun and pampering.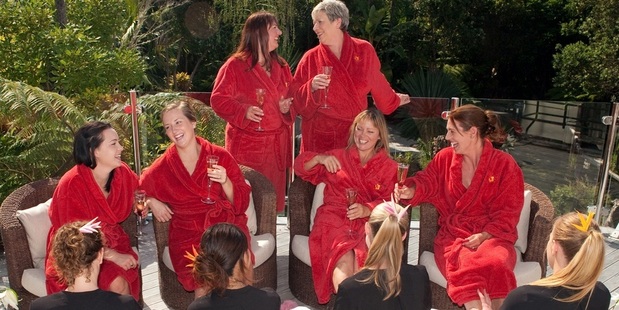 If you're in Auckland - or even if you're not, actually, because it's worth traveling for - the Coromandel region makes a fine choice for an escape. Just 75km/3-4 hours out of Auckland by car (though taking the ferry is the more hands-off option) and one of the most beautiful spots in the country, it's virtually impossible not to arrive home refreshed. Plus, you can pick from any of the main centres: Coromandel (township), Whitianga, Thames, Tairua or Whangamata.
Of course, the trick for any hen's party away from home turf is to find activities, accommodation and food that suits groups - not just couples and young families. Fortunately, the Coromandel caters extremely well for those traveling in packs; from spa lovers to adventure junkies to nature dwellers, there's an abundance of options to choose from. Which means you can hop from one to the next, making sure everyone's happy.
Here are some suggestions and tips to get you started. (For more extensive info, a visit to thecoromandel.com should provide you will all the info you need.)
ARRIVE
360 ferry: A lovely way to avoid boring drives - just hop on the Auckland-Coromandel ferry, which leaves from downtown Auckland and arrives at Hannaford's Wharf. From there, a free 20-minute shuttle takes you straight to Coromandel Town's centre, with friendly staff on board to help you with any questions about your trip.
DRIVE
Rent a car Whitianga: From the fun of Hot Water Beach to the delights of tiny Kuaotunu, there's a lot to explore in Coromandel, so you'll want your own wheels - even if you did skip the drive from Auckland by catching the ferry.
SLEEP
Wairua Lodge Perched on a sunny ridge in a bush-clad valley 12km from Whitianga, is a beautifully relaxing spot that's a short-ish drive from the main centre but feels miles away. It offers simple rooms for two, or - perfect for groups - the River Deck Suite. Fully self-contained and lined with wood for an adorable cosy cabin feel, it has two bedrooms (that sleep four) and can be joined up to one of the Hidden Valley rooms, to create a three-bedroom, two-bathroom suite. Even better, it overhangs a ravine and stream and you get to use the Lodge's outdoor bath (a Morepork hangout) and spa. Just remember to pack some champagne.
Oceans Resort: If you'd rather stay in the heart of Whitianga, a once-quiet seaside town that now hums (quietly) with a good range of eateries and accommodation, try Oceans Resort. It offers extremely comfortable apartment-style accommodation for groups, including two bedroom / two bathroom, or larger 'Family' apartments that sleep up to six. You can get breakfast delivered in the morning, plus there's a heated pool, complementary wireless, and a tennis court.
EAT
Salt: Right on the water of the Whitianga Marina, Salt is a relatively premium eatery (mains are around $35), but it's excellent. In fact, few Auckland restaurants could match its food or service. Offering some of the most deliciously prepared whitebait you could imagine, as well as the kind of gnocchi that's hard to find outside of Italy itself, you really can't miss this place.
Luke's Kitchen: If you're after something down-home, Luke's Kitchen is it. A semi open-plan eatery right by the sea in the gorgeous little coastal village of Kuaotunu (20 minutes to Whitianga or Coromandel Town), it serves up fantastic pizzas, often to the sound of locals having a croon on the mic. A big hot stone oven sits centre stage in the middle and there's a roaring fire outside. You can't come here and not feel like you're on holiday, which is always nice.
Hot Waves: Before (or after, depending on the tide) you've dug some sand at Hot Water Beach, drop into Hot Waves for some excellent coffee and quality breakfast food. The staff are amazingly helpful if you have any questions, and the carrot cake is very worth taking away for afternoon tea.
Pepper Tree: Feel like a big, juicy eye fillet or some delicious tender lamb? Pepper Tree, in the heart of Coromandel township, is a great choice. It's won numerous awards, offers regal Kauri surrounds, and feels at once homely and stylish. Overall, a reliable stop in that's popular with locals, too. Drop in for brunch or dinner.
DO
Lost Spring: The slightly unusual but quite lovely Lost Spring is a thermal spring and day spa with a bar and eatery attached. The sculpted geo-thermal pools are designed to be a sort of wonderland, and the mineralised water - drawn from 667m underground - is said to be therapeutic. You can relax with friends (in temperatures ranging from a comfortable 32 degrees to a toasty 41 degrees) and order cocktails and nibbles, or treat yourselves to the Hen's Heaven Package, which also includes bubbles and pampering treatments. All as you're surrounded by luscious native bush.
Glass Bottom Boat: Hopping onto a glass bottom boat is an easy and fun way to check out what's going on underneath Coromandel's sparking waters. These guys let you choose your own level of interaction - sit back and enjoy the marine life or snorkel the marine reserve with all equipment supplied (and no experience necessary). If you're lucky, dolphins, orca and fur seals will make an appearance. Quite apart from the fish oggling, the trip's a great way to survey Coromandel by sea, too.
Combat Zone: It might be a Hen's party, but that doesn't mean it's all spa treatments and good food. For the more adventurous of the group, head to Combat Zone for a range of activities like archery, paintball, argo rides, and laser clay bird shooting.
Driving Creek Railway A lot's been written about Driving Creek Railway and its eccentric founder Barry Brickell, and rightly so - this charming train ride is an excellent way to spend the afternoon. Located in Coromandel, the one-hour return trip takes you through replanted native kauri forest and includes two spirals, three short tunnels, five reversing points and several large viaducts as it climbs up to the mountain-top terminus.
- nzherald.co.nz