Danielle Wright takes her family on the bike trail less travelled through the Riverhead Forest, 30 minutes drive from Auckland city.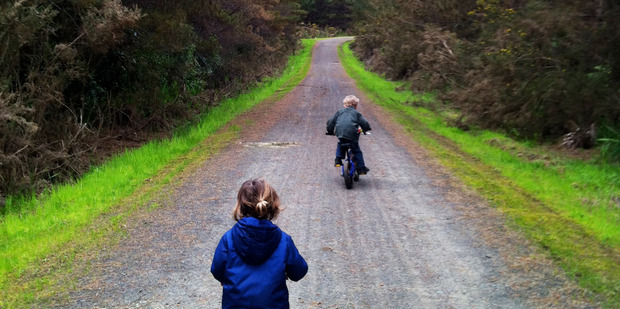 "I've got a bad feeling about this place," says our six-year-old son, Henry, as we push our mountain bikes through a locked gate and past a burnt-out oil barrel, a sign stating 24-hr surveillance and a few messy piles of logs.
We take the first turning into the woods. The track is wide with an easy incline so Henry heads off on his bike right away, suddenly back in his element.
Our three-year-old daughter, Georgie, is not so keen as she spots horse manure and imagines black stallions charging from behind every tree.
It's a stormy day and the rushing noise in the trees in such an isolated spot does create an eerie atmosphere. Pine needles fall like snow from the tall trees as we venture deeper into what seems like an enchanted forest out of Narnia.
It all reminds me a little of Robert Frost's famous poems about roads less taken and woods that are "lovely, dark and deep". If only we'd taken something to mark our way, we'd be more adventurous with which tracks to take - but today, we stick to knowing the way back out again.
"It's one of those things where you need to ride there a bit before it all gels," says Ryan Lovett, who has helped make the trails over the past three years and developed a trail map for the forest.
"All the trails are user-friendly, just make sure the first time you go down a trail be very aware of what's up ahead," says Lovett, who suggests it's best to go after a few days of dry weather. "It's safe to ride there alone and a lot quieter then Woodhill. I take my dog there when riding and so do many others."
Red flags indicate a jump, a drop, or just a reason to be cautious. The trail maps have gravel roads through to extreme trails marked so there's something to suit every level.
We don't pass anyone else and once we're used to the sounds of a forest in a light storm, we relax and enjoy being out on our own in nature. It's a little muddy so we stick to the bigger tracks, but will be back to explore further when the weather clears up.
The smell of pine is overwhelming as we head out of the forest. Tree branches snap high above us and giant silver ferns create a barrier to the light rain as we step over the mud on to pine needle carpet, thick underfoot.
"That was exciting," says Henry, still buzzing, and even Georgie has hopped back on her bike to ride the wide track as fast as she can back to the car.
Riverhead Forest is not Woodhill, there's no coffee or merchandise stand to welcome you and you're unlikely to meet another soul on your ride. For those brave enough to enter the lonely woods, that's also what makes it such a special place.
ON YER BIKE
The West Coast Riders Club is a registered charity developed to create and preserve the mountain bike trail network in the forest. Diggers are needed to build many of the trails, so the group is always looking for funding. Contact ryan@freeriden.co.nz if you can help.
According to Lovett, the best place to park and start your ride is the first car park on your left marked on the following map as "you are here". We found other "roads" into the forest that were indicated on our GPS were actually fenced off when we approached them.
Stop at the Kauri Gum Country Store & Cafe: 22 School Rd, Riverhead. Tel: 09 412 9555.
It's hard to go past the sweet treats on display - chocolate cheesecake slice, bread and butter pudding, a "very wicked brownie" or a black doris plum slice. There are even gumdigger platters to go with the historic setting - it's filled with early settler displays and nostalgic toys. Local history books are also for sale. Eat inside or out in the garden.