Danielle Wright stays overnight at Auckland Zoo and finds the children and zoo animals on their best behaviour.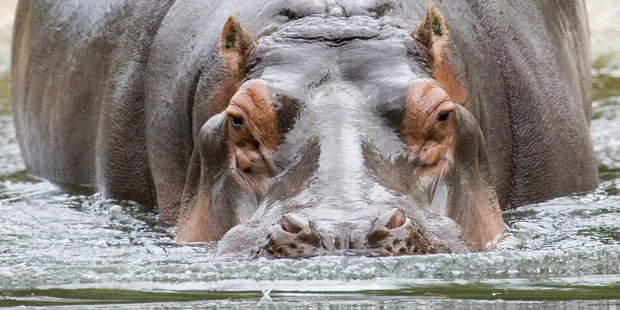 An elephant named Burma walks past us as we arrive with sleeping bags and pyjamas for the overnight zoo safari. She is out of her enclosure and having a leisurely afternoon stroll with her keepers, a trail of children following as excitedly as if they had just seen One Direction.
Inside her previous enclosure, the Old Elephant House, where the kids are are staying for the night, black and white photographs in frames show its less-dignified past - an elephant pushes a baby pram in one - and the room highlights how cramped it must have been before more natural zoo settings were favoured.
A few groups of tween-aged girls are first to arrive for an overnight birthday party. They giggle as they see boys entering the house. Their parents look around in nervous contemplation of their darling daughters in close proximity to wild beasts, or worse, boys, for the night.
Once everyone has arrived, we're split into groups for an afternoon guided tour of the zoo. We're paired with Matt Cuming, who already has a trail of tween girls vying for his attention while the boys sidle up to him making comments like, "I am actually the fastest runner in my school".
With my six-year-old son Henry and his friend Connor on the safari night with me (an exception for Weekend Life, the sleepover is strictly kids only), it's a bit of an insight into what life will be like for us in a couple of years, as well as an educational behind-the-scenes trip around the zoo.
On the first of three guided walks (one at the start, one in the dark and one early morning), we notice how active the animals are - even the Galapagos tortoises are on the move.
At the blue penguin enclosure, we watch them waddle past and head under a turned-over rowboat, shaking their feathers as if in a dancehall waiting for the music to start. A spotted shag brings us a stick and then flies over us, inches from my face.
At the siamang monkey enclosure a friendly fellow flies through the air in front of us, puts both feet and hands on the glass, looks us in the eye and goes to the toilet. The kids think this hilarious.
Team leader Caroline Thalund joins us in the kiwi enclosure and wins the group over by pointing out a secret door behind a bookcase; she gives them a peek inside. We move on to the tigers and see Oz proudly perched behind glass covered in the day's tiny handprints.
"The tigers have soft toys, a couch to sit on and a television where they watch Madagascar DVDs," says Thalund to the group, who are led behind the "Keep Out" signs to have a look at where the tigers will sleep for the night.
A voice on the loudspeaker announces the zoo is closing for the night as we head back to the elephant house for sausages, potato salad, coleslaw and bread, followed by zoo-themed games and musical statues.
Even though one girl wears a T-shirt with "I don't need your attitude, I've got my own," and many are dressed up, one with glitter all over her face, the kids are very kind to each other and even those on birthday parties join in with the others in games of tag.
Perhaps it's safari guide Dave Tuki's threat of doing the dishes with him afterwards that keeps them in line, or just the fact that this safari night is a well-oiled machine moving seamlessly from one activity to the next before anything near boredom can set in.
After dinner, we head out in the dark with torches for a night tour, including the fridge and freezer (who knew the animals sometimes eat baked beans and ice lollies). The winners of the musical statues get to feed the hippos a cabbage, while commentary about education and conservation puts it all into perspective, more than a private visit to the zoo would.
Back at our base, we're given hot cocoa and cookies, followed by popcorn and icecream, while an animated movie plays on a large screen. By 10pm it's lights out as Dave says goodnight and reminds the children the alarms are set so if anyone tries to leave the building they will go off.
Henry and Connor fall asleep quickly and I'm not far off as the kids are running around skidding in their socks and heading to the bathroom to brush their teeth. I expect they fall asleep easily too but couldn't say for sure.
Up early, the kids have breakfast of toast and cereal then learn about elephant teeth, ostrich eggs and peacock feathers before the last walk around the zoo.
At all times, the safari guides and volunteers show a great deal of care towards the children, answering every one of their many questions. The kids in turn never act up and seem to thrive in this safe rite-of-passage night away from their families.
Goin' to the zoo, zoo, zoo
There are three options for the night safari - groups (20-50 people), kids-only, and public safari nights. Costs are $48 per person for the guided walk and barbecue or $62 per child including the sleepover.
Next dates: Barbecue and walk for adults and kids, Tuesday July 10 (minimum age 5 years); kids' only sleepover, Wednesday July 11 (minimum age 8 years).
Further information: See aucklandzoo.co.nz.