Technology and travel go well together, as Danielle Wright discovers on the new QR code journey along the Auckland Waterfront.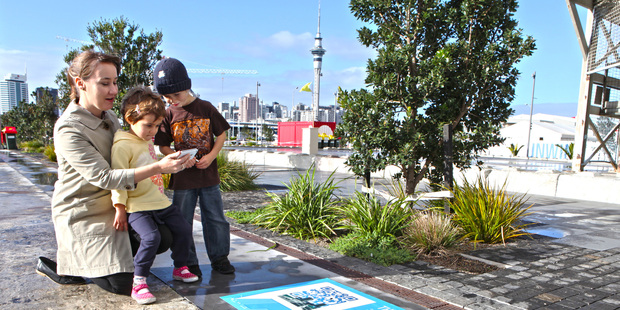 Do you ever wonder what you're walking past, but don't want to spend time looking it up when you get home? Now you can head to Waterfront Auckland for a walking history tour via your smartphone - any time of the day or night.
For people like me, unsure what those squiggly boxes appearing everywhere from the back of cornflake boxes to the insides of magazines are all about - they are QR (Quick Response) codes. Download a QReader app on a smartphone and when you hold it up to a QR box, it will direct you to a link - in this case, a video snapshot about the history of the area.
We start the tour off at the Silo Park six-pack, where we watch a video about the history of the silos, retained to preserve the industrial heritage of the area. Built in the 1960s, at one point they housed 350,000 tonnes of concrete per year.
Today, they're used for special events and exhibitions.
Next door is Silo 7, where movies are projected and a hot water bottle refill stand is available on cold nights for this open-air movie theatre experience.
The modern industrial area and tank farm is screened off by the Gantry, a 12m high, 100m long visual barrier. It's a good vantage point and beautiful when lit up at night.
In front of the Gantry is the maritime-themed play space, modelled on reclaimed seabeds with its giant pods and shells. The video tells us it's a fitting theme considering the entire Wynyard Quarter sits on reclaimed land.
Our kids love playing on the challenging playground and trying out the QR codes gives us something to do while we wait for them to burn off some energy.
Next, we head past the Wind Tree art installation by Michio Ihara. The video tells us it was created in 1971 for the Auckland Sculpture Symposium, then placed in Queen Elizabeth square and in 2002 was placed in storage to make way for Britomart.
Ihara claimed the work as destroyed on his website but Jellicoe Plaza provided the perfect place to bring it out of storage. Ihara, now in his 80s, was involved in the re-installation and described it as a "rebirth" for the sculpture. It still looks fresh and modern, more than 40 years since it's creation.
Crossing the disused train lines, we play with the silver funnels of a Sounds of the Sea art installation. It's here you can talk to each other through hollow pipes poking up from the ground - our kids tell each other codes, mirroring how communication once was on ships.
They race over the colourful crates sitting outside The North Wharf cluster of restaurants. One, Jack Tar, is in "the old red shed", which is a piece of waterfront history dating back to the 1930s.
We hear about Jellicoe St with its cobblestone boulevard and heritage tram before stopping at Wynyard Crossing, over which we've been many times without noticing Rachel Shearer's sound installation, the Flooded Mirror.
After watching it on the QR code link for this stop, we keep our ears open for sounds that profess to tell a story of the interconnections between sea, geology and humans, in a six-hour sound loop. I don't hear anything, but then again, I didn't have long before I had to chase my kids over the bridge.
Next time I will try harder.
The best QR codes I found were those talking about Te Wero Island, where a Maori challenge is played out on the video link with PM John Key leading the visitors across the bridge, as well as a beautiful welcome song talking about the spiritual nature of Karanga Plaza.
The QR Code Reader journey finishes at the Cloud, where visitors will be reminded that New Zealand did indeed win the Rugby World Cup, in case they might be in doubt.
Any parent with young children will know why our walk was sometimes more like a run, and although the kids weren't really interested in the videos, they had a great time climbing up every sculpture and exploring all the tactile elements on the walk: the world was a colourful obstacle course for the morning.
As someone who likes art explained to me - I don't really have the patience to ponder its significance - the QR system was a great way to put all the pieces together and appreciate the waterfront a bit more. And over time, more stories and an historian's perspective would be a great addition.
Where to start
Details about the QR code trail, workshops, mid-week walking tours and other events are on yourwaterfront.co.nz. Bring scooters and a picnic for a change from the usual bush or beach family walk.