Jack Johnson's sticking to his traditional sound - and still out surfing the swells, writes Gillian Orr.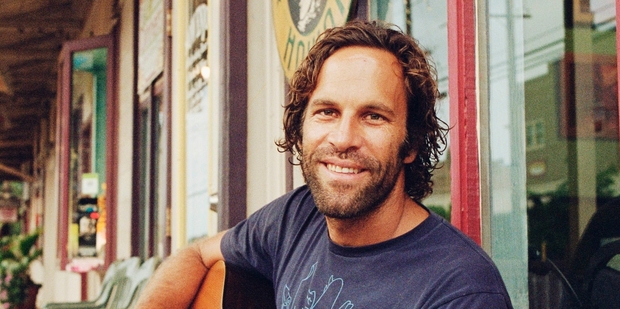 Jack Johnson is telling me about his appreciation of dubstep. "I love it, man," he enthuses. "That 'wom wom wom'. As far as electronic music goes, it's probably my favourite."
Anyone at all familiar with Johnson's output - mellow, mainly acoustic guitar music that easily lends itself to being sung around the camp fire - might find it rather peculiar to hear the 38-year-old Hawaiian waxing lyrical about electronic dance music.
But then Jack Johnson is not quite the easy, breezy, surfer-dude caricature that you might imagine him to be. Sure, he's wearing flip-flops and some dodgy hippy bracelets, and he's laid-back and good-natured, but he is also a committed family man and a passionate charity campaigner. And nobody gets to sell 18 million records without a bit of drive. A stoner-slacker, he ain't.
He understands that he has a certain public persona and he is happy to play the role. "I think that whole thing is based on some truth but it definitely gets exaggerated," he insists.
"I don't mind that projection of me. I feel like I have a pretty good idea of who I am. None of it really stresses me out. I mean, I go through the same things that everyone else does: of losing people close to me, kids getting sick, just life."
Long-time fans of Johnson, who rose to fame with 2003's On and On and 2005's In Between Dreams, should be pleased to hear that his latest offering, From Here to Now to You, doesn't stray too far from past work. This album, his sixth, is a breezy, upbeat collection of tracks about his family (he is happily married with three children under 10) with all the hallmarks of a classic Johnson record: melodic tunes with plenty of fingerpicking, whistling and strumming.
He reckons the size of the venues he played may have had an effect on how he wrote the album. "Last year I played all these shows in Hawaii, in these little theatres, just me and my acoustic guitar," he says. "When I came to writing the record, I think subconsciously I was trying to fill smaller spaces a little bit. So it's a little more stripped down and acoustic."
So his love of dubstep hasn't encouraged him to try out a new direction? "I play around with stuff but I don't really feel the need to reinvent myself to remain relevant," he says. "I feel part of a tradition of singer-songwriters, of playing acoustic guitar and sharing songs. I've always felt like a traditionalist. I appreciate other people pushing boundaries but I never really felt like doing that with my own music. If I listen to Mississippi John Hurt then I want it to sound like the blues. I don't want to hear Bob Marley doing jazz, you know?"
For many people, Johnson will forever be associated with the international backpacking community. It might not exactly be "cool" music, but you get the impression Johnson couldn't care less about all that.
Does he know why his music has been so embraced by young wanderers? "The first thing that comes to my mind is that I've lived that life and those are my people," he says. "I travelled around Europe in a camper van and stayed in youth hostels when I was younger, and I had my guitar with me and I was writing songs. It came from that place. Whenever I pass those places I like to pop in and have a look."
These days, alongside his music, his focus is on various charitable causes. He has two foundations: the Johnson Ohana Charitable Foundation, which funds various grants worldwide, and the Kokua Hawai'i Foundation, which focuses on educating Hawaiian schoolchildren about the environment, and since 2008 he has donated 100 per cent of profits from touring to good causes.
Despite his numerous responsibilities, he still has time for his first love: surfing. He records all his albums at his home in Hawaii, in Mango Tree Studios, and will postpone sessions if he thinks he'll be missing out in the water. "That's one thing that gives me anxiety: if the waves are good and I can't surf. With surfing you might only get a few good swells a year.
"There's this song by the Kinks called Sitting in My Hotel about how their friends would laugh at them if they saw them in some fancy hotel room. I really relate to that. Because if my friends saw me in a hotel in London or Paris they would think I was such an idiot. I mean, what am I doing travelling round the world when there are such good waves at home?"
Who: Jack Johnson
When and where: ASB Theatre, Aotea Centre, Tuesday Dec 3 and and Wednesday Dec 4
Follow @nzherald_ent on Twitter for all the latest entertainment news.
- TimeOut / Independent