Of all the instruments, the alto sax is closest to the human voice, writes William Dart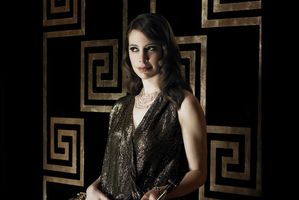 Just a few words into our conversation, and Amy Dickson is determined to put me right.
The Australian didn't take up the saxophone as a schoolgirl because all the good-looking boys were playing it, as she claimed in a recent television interview.
"That was a joke," she laughs. "From the beginning it was the sound of the instrument that caught me, and I still love it."
Dickson last visited in 2008, giving the New Zealand premiere of Philip Glass' Saxophone Concerto, and returns to Auckland next week to play Pierre Dubois' 1959 Concerto with the Auckland Philharmonia Orchestra.
"It's an old friend and a seriously meaty, proper concerto," she says. "If it had been written for any other instrument, it would be much better known."
She sells the work to me with some panache. There is talk of its opening cadenza being dark in tone with more than a nod to Bach but, after that, its first movement is "light and fun, very much in the French neoclassical style".
As for the central sarabande with its unusual directive of "lento nostalgico", this is her "favourite piece of all time, for any instrument".
Dubois penned his concerto for an alto saxophone and, these days, Dickson mainly plays this instrument and the higher-pitched soprano sax.
"This is where the majority of the repertoire lies," she explains, but there are underlying personal issues as well. "I find myself drawn particularly to the alto. I wonder whether that's because my singing voice lies halfway between soprano and alto. The saxophone has always seemed to me to be closer to the human voice than any other instrument; I always feel like I'm singing when I'm playing."
There are quite a few songs on her new CD, Dusk and Dawn, in which she plays ballads from the likes of Tom Waits, Jerome Kern and Harry Warren alongside a Chopin Nocturne and Nino Rota's theme for Fellini's La Strada.
But Dickson bristles slightly at the term "crossover" when it comes up. "I do believe that you can play anything," she insists. "And, as long as you play it really well, people won't be able to criticise you."
She is much happier talking about the concept behind the album. "We had a grand vision for it," she explains. "I wanted to get this big mix of pieces and pull them together within a common sound world, like that of 1950s and 60s soundtracks such as The Thomas Crown Affair."
Dickson is looking forward to appearing on the Classic Brit Awards on October 2, playing a Mark Knopfler composition, Going Home, with orchestra. Yet she has no shortage of other memorable concerts, including one in Zimbabwe. "The police and militia walked in during the piece and stood at the bottom of the stage, guns in hand, just to show who was in charge."
She is more comfortable with memories of presenting Island Songs, by veteran Australian composer Peter Sculthorpe, at last year's Presteigne Festival in Wales.
"He'd been to the Torres Strait Islands and, in a secondhand bookshop, he found a manuscript of a song that had been sung by the Aboriginal for centuries and also by the troops in World War II," she says. "After that it had been completely forgotten. He based the piece on that melody and saved it for posterity."


Performance
What: Auckland Philharmonia Orchestra
Where and when: Auckland Town Hall, Thursday at 8pm