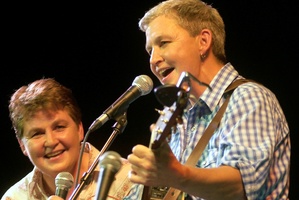 The Grand Ole Opry is known as an iconic Nashville venue, and a cultural institution with a weekly country music concert that's been presented since 1925 (which you can still hear weekly on the radio).
This October, comedy and musical treasures the Topp Twins are creating a New Zealand tour version, called The Grand Ole T'Oppry, paying homage to country music greats and celebrating local country talent.
It will be hosted by the Topps' well-known characters The Ginghams, and features award-winning country artists Tami Neilson, Delaney Davidson and Marlon Williams alongside rising stars including the all-girl Johnny Cash band The Johnnys (not to be confused with the Australian cow-punk band from the 80s) and, Wellington-based duo Eb & Sparrow, plus special guests.
Audiences can expect a glorious evening of genre crossing, from rockabilly to bluegrass, comedy to gospel, and with Neilson, Davidson and Williams having already toured together earlier this year as The Grand Ol' Hayride in support of their album Sad But True: The Secret History of Country Music Songwriting Volume II, you can bet they'll be a polished ensemble.
The 11-centre tour begins in Invercargill on Wednesday October 9 before heading to Dunedin, Oamaru, Timaru, Ashburton, and Hamilton, before playing three nights at the Bruce Mason Centre in Auckland from October 18 to 20. Then they head on to Napier, Palmerston North, Wellington and Christchurch. Check out topptwins.com for more details.
Prepare to get chic, Auckland
Nile Rodgers, the veteran funk guitarist-producer who is back in the spotlight - or is that mirrorball glow? - care of his guest role on Daft Punk's latest album and his band Chic's set at Glastonbury, is headed to New Zealand to play.
That's according to the man's website, which lists December 2 as the date of his Auckland show before he heads to Australia for early summer festival dates.
Under the title "Nile Rodgers Presents the Chic Organization", he has just released a double album of his own, which marries Chic disco classics such as Le Freak, I Want Your Love and Dance, Dance, Dance with tracks he produced for the likes of Diana Ross, Sister Sledge, Carly Simon and Debbie Harry.
Follow @nzherald_ent on Twitter for all the latest entertainment news.
-TimeOut