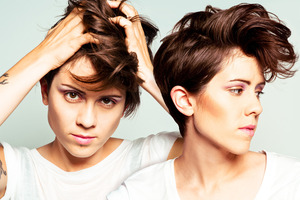 Tegan and Sara have all the makings of a superstar pop duo: the Canadian twins are easy on the eye, they love chart-friendly dance pop, and they write about lost loves and broken hearts. The problem is, that's not what Tegan and Sara do.
Over six albums, they've crafted a nice career out of underground alt-rock and twee indie-pop. On Heartthrob, their seventh album, they cash it all in, pull out the synths and start mimicking Swedish sensation Robyn.
But they're just not interesting enough to pull it off: Love They Say employs rom-com cliches like "there's nothing love can't do", Goodbye, Goodbye is the kind of take-the-power-back foot-stomper Miley Cyrus would turn down for being too cheesy, and Drove Me Wild is so saccharine sweet you'll need mouthwash afterwards.
That doesn't mean there aren't occasional moments of success: Single Closer is the kind of sing-along alt-pop anthem you'd find soundtracking an episode of Girls, shimmering ballad I Was a Fool builds like a long-lost Eurythmics track, and Now I'm All Messed Up picks at a wound that obviously hasn't yet healed - and finds rare emotional depths.
But there are probably a fair few Tegan and Sara fans who'll feel irreparably hurt by Heartthrob.
Stars: 2.5/5
Verdict: Canadian twins get their dancing shoes on
Click here to buy Heartthrob by Tegan and Sara.
- TimeOut