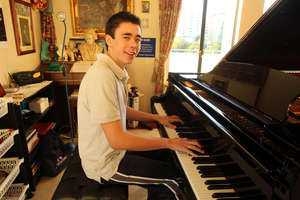 Kiwi teenager Naoki Toyomura loves playing the piano. He loves it so much that, last year, his mother hired a crane to hoist a $200,000, 345kg Steinway piano into their seventh-floor inner-city apartment.
Now, Naoki and his mum's determination has paid off: this week he performed a difficult Prokofiev piece in front of three judges at Carnegie Hall, New York, to acclaim.
And next month the 19-year-old Aucklander will be one step closer to his dreams when he auditions for a spot at the exclusive Juilliard School in the city.
His mother, Kimiko Toyomura, said he was one of 800 people worldwide selected for the auditions. But only the most talented will be given the green light.
"They only take 20 people," Kimiko said. "He applied to eight other schools and got into all of them. But he wants to go to Juilliard."
Naoki moved to America this year after being named a finalist in the Forte International Competition.
"Everyone dreams of playing at Carnegie Hall. It is for the best in the world," Kimiko said.
Naoki was enrolled in piano lessons 15 years ago, and two years ago he dropped out of King's College to focus on playing.