Minuit demand less from listeners on album four, writes Lydia Jenkin.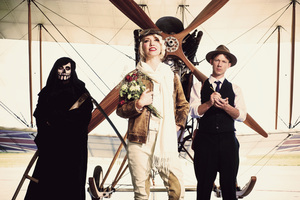 While Amelia Earhart may seem to have little to do with Wellington-based electro-pop trio Minuit, it's the aviatrix's sense of adventure which inspired the look of the press shots for their new album.
Being the sort of band that's keen on playing shows in out-of-the-way places - they've toured everywhere from Finland to Vietnam - they wanted to do photographs with a "where's your sense of adventure?" theme.
After all, music-making itself is like taking flight without knowing where you'll land.
Spirited lead singer Ruth Carr felt like doing some exploring herself when she wrote much of their fourth album, Last Night You Saw This Band.
In fact, she'd flown off to Rarotonga to learn how to scuba dive.
"I'm a bit of a default runner, as in, I tend to run away from things. And I felt at that point like I really needed to run away again, and I thought, 'yeah, I want to go somewhere warm'.
"So I called around a few dive shops, just to see if anyone would take me on, you know, working for free, and they were all like, 'well you really need to know how to dive'," she explains with laughter.
"But there was one place where I sent my CV in, and they called me up, having seen that I could make furniture, and they said, 'oh look, if you come and work in the shop hiring out gear, you know, flippers and things, and build a new desk for us, we'll teach you to scuba dive'.
"So yeah, I went and stayed there for a few months, and had a great old time."
Carr writes songs constantly, so it is no surprise that she wrote plenty while living in the islands. She says she enjoyed the direct inspiration the simple life gave her.
"We rented this cheap-as place that some family were advertising - just their sleep-out - so we went and stayed up there in the Turangi Valley. And that's actually what the song Islands is about, because my landlady really was always counting her chickens, and there really was this guy who came over and asked me, 'A pig's been stolen. Did you steal it?'."
There does seem to be an upbeat, carefree element to the album that may have come from spending months in the middle of the Pacific, and Carr's excited to have unintentionally given it a slight change in direction.
"Someone told me they thought it was the most cruisy Minuit album yet, and I thought, 'wow, it totally worked going somewhere cruisy, because I think maybe our past albums have been quite demanding of the listener ... I was like, 'yay, I finally wrote a happy album!' I was blown away by that."
Of course, the expanded palette of sounds, including much greater use of live instrumentation, also gives the album a fresh, vital, sonic realm with which to explore, and the adventurous attitude of the group's two music makers, Ryan Beehre and Paul Dodge, added some unexpectedly winning touches.
"The guy who plays the harmonica for us, he was just in the post office in a line in front of Ryan, holding a harmonica, and Ryan said, 'oh do you play?' and the guy was like, 'yeah', so Ryan said, 'do you want to come to the studio and put something down?' and he was like, 'yeah, okay, buy me a kebab'. So he did. It was great."
There was also a guest trumpeter - Rockquest boss Pete Rainey, who the band, as fellow former Nelsonians, had known for a long time.
"Then, last time Paul was in Haiti, he recorded a bunch of children singing in an orphan school, and that's in the background of the song Islands, with a lot of drums and stuff. With the sounds we went from islands to islands to islands, really."
The album isn't a breezy, bubbly pop record, although there's plenty of intensity and propulsion in the arrangements, and several songs which tackle serious subjects. Carr describes their first single, Book of the Dead, as "a bit of a saddy. That one was fallout from cancer stuff."
Carr was diagnosed with a rare type of cancer and given a bleak prognosis in 2005, but was given a clean bill of health two years ago.
Despite being a song she wrote nearly 10 years ago, Stories For Boys resonates in the wake of the global financial crisis.
"It's still timely, and topical. How ironic. The world is still ruled by men in leather shoes whose hearts need a good breaking. Nothing changes. I guess it's about taking a million tiny steps, isn't it."
Even the title track, Last Night You Saw This Band, has a serious origin in its message of joyful discovery, and the power of music.
In Kosovo in 2001, just after the war, the group found themselves feeling a bit powerless.
"We were going 'what is the point of music in a place like this? What are we going to do, play some gigs?' But I was actually blown away by the amount of music I heard there.
"Every single person who had a two-bit ghettoblaster was blasting all sorts of stuff on the street, or from their cars. And it gave me a different perspective on how much something like music can mean.
"Sometimes, even when you have nothing, the power of being able to choose what you want to hear, to choose what you want to play and how it'll make you feel a certain way, that can be your freedom."
Who: Minuit
What: The release of their fourth LP Last Night You Saw This Band
Where and when: Playing in New Plymouth on February 23, Napier on March 1, Homegrown Festival in Wellington on March 2, and in Auckland at Juice Bar on March 15
- TimeOut