Singing sensation Bruno Mars tells Scott Kara about his passion for collecting CDs and records while making the music he loves.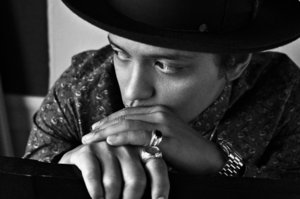 You should never make music for one audience, or just for the radio, or for critics. You just have to make the music that you want to do and do the music that gets you excited. Bruno Mars Bruno Mars has blown up all over again - and all it took was one song. While the soul-pop sensation released his second album, Unorthodox Jukebox, this week, it's his latest single, the Police-inspired Locked Out of Heaven (think Message In a Bottle or De Do Do Do, De Da Da Da) that got him straight back to the top of the pops following his hit-laden, mega-selling debut, Doo-Wops & Hooligans from 2010.
It's yet to reach the popularity levels of Grenade, his grand ballad where he vowed to "jump in front of a train" and "catch a grenade" for his baby, but the new song is an example of the 27-year-old's unashamed passion for music.
"I just want people to recognise that I really mean this music stuff, man," he says in his polite and lively lilt on the phone from his Californian base. "This is what I love to do. And this is everything that I grew up as a kid wanting to do.
To do music. I hope that they can hear that in these songs and know that."
As for the difference between Doo-Wops and Jukebox, it's simple: "It's two years later. Honestly, that is the best way I can explain it. I hope that it's evolving, and I'm growing as an artist. And I just feel like I've learned from my mistakes. Going back and listening to songs, even songs that were No. 1 hits, and I'm like, 'man, I wish I woulda done this or that'."
Being out on tour, which included a show at Auckland's Vector Arena in April 2011 as part of his year-long Doo-Wops world tour, made him into a tougher and more seasoned musician too.
"I had never been on tour before. I'd never been thrown to the wolves," he jokes. "I learned a lot about what I wanted to be singing about on the new record, and I really put a lot of thought into what I was missing last time that I wanted to have on the new record. I thought, 'I wish I had a song like this to play live', and that was what really put the fuel on this album."
And, if new songs like Gorilla ("I got a bottle full of liquor with a cocaine kicker") and Young Girls ("you young wild girls, you'll be the death of me") are to be believed, during that time he's also been living it up and, well, never mind being thrown to the wolves, it sounds like Mars has been sowing his wild oats. Not that he's giving too much away about how much truth there is to those songs.
"Young Girls isn't about having a struggle with the women in my life," he laughs. "It's about - and everybody goes through it - when you hit a certain age and you're going out all the time and you kind of get lost in the forest. You get caught up in the nightlife. And [there's] that sentiment that you're looking for love in all the wrong places. I guess that song was a bit of therapy for me."
He's particularly proud of Gorilla. "It will melt your face off," he says of the song. It was co-written and produced with British superstar beatmaker and musician Mark Ronson, who has worked with everyone from Amy Winehouse and Adele to hip-hoppers Q-Tip and Ghostface Killah in the past.
"He is a dude with incredible musical taste and he gets excited about the music that he's creating in the studio," he says of Ronson.
The pair have much in common. For instance, like Ronson, Mars is also an avid music collector. And although he grew up in the CD era ("an art form that, sadly, has completely died, but I remember saving up $20 to go and buy a CD") and is now one of the biggest-selling digital artists ever, Mars is a vinyl junkie, which is alluded to in the title of the new album.
"When you have it physically, a vintage record is so cool and it makes you think of a different time and place and also about how much time and effort the band put into it, and the statement they were making. Unorthodox Jukebox is just a way to show my affection for that period."
Although he doesn't get much time to find records these days because "you gotta dig, you gotta get dusty, and that takes time".
But he and Ronson have more than just record collecting in common. "He's a master at recording live instruments the way I like to hear them," says Mars. "Because when you are doing soulful records with live instruments, it's very easy to lapse into an adult contemporary smooth jazz groove sound. But he has mastered the way the drums and guitars should sound, to make it punchy."
Gorilla, with its simmering tension and epic grandeur, was the first song written for the album and it set the tone for what is another stylistically diverse outing, from rootsy soul tune If I Knew to dub-reggae number Show Me.
"You should never make music for one audience, or just for the radio, or for critics. You just have to make the music that you want to do and do the music that gets you excited. And one thing that I've learned is that the only way for me to be happy is to stand by the music that I write and I'm so proud of Locked Out of Heaven, Young Girls, and so at least at the end of the day, if this album doesn't do well at least I did what I wanted to do.
"And just because it worked so well on radio I didn't want to write [breakthrough hit] Just the Way You Are Pt. 2."
Although he's quick to point out with a chuckle, "Even though I love that song and I'll be singing it until the day I die."
Who: Bruno Mars
What: Genre-mashing soul-pop superstar
New album: Unorthodox Jukebox, out now
Debut album: Doo-Wops & Hooligans (2010)
- TimeOut