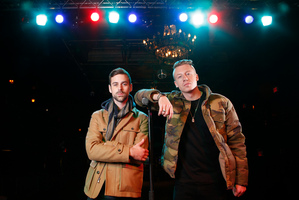 Don't judge Seattle-born rapper Macklemore by his cheeky, catchy hit tune Thrift Shop alone. Because his debut album with producer mate Ryan Lewis reveals Macklemore as a sensitive and socially conscious smartarse.
And it's a refreshing combination.
Similar to Thrift Shop, with its incessant brassy hook and dirty lyrical shenanigans ("smells like R Kelly's sheets"), which has held the No 1 single spot in New Zealand for four consecutive weeks, The Heist is clever, innovative good-time hip-hop and pop music. But what makes it even more surprising and inviting is how beautiful many of the 15 songs are, like Thin Line which, as well as its boppy beats and shimmering blips, recalls crooning and swooning new romantics Spandau Ballet.
Or the tender gay support group anthem Same Love, a simple piano and brass-driven song with a nod to the tune of People Get Ready.
It's also a song that could have been written for our very own John Key with Macklemore's line, "Have you seen the YouTube comments lately, 'Man, that's so gay', is dropped on a daily basis."
Thirty-year-old Macklemore has been releasing music independently since 2000, building up a solid online fanbase. But this year the duo took off, and the album reached No 2 when it was released in the US recently (coming second only to banjo rock phenomenon Mumford & Sons). Which sure ain't bad for an independently released album.
Here in New Zealand Thrift Shop is what they are best known for, but the album's popularity is starting to build momentum after being available digitally for a few weeks - and it comes out on CD tomorrow. However, what's most telling about their popularity is the fact their Auckland show on February 22 has been upgraded to the much bigger Logan Campbell Centre, and their Wellington show has also been upsized.
It's not surprising they are popular, because a song like Thrift Shop is catchy to the point of gimmicky, but steers clear of being a joke song because it's masterfully put together and has a carefree yet confident jaunt to it - like Eminem in his heyday. And Macklemore has a bite that sometimes resembles Slim Shady's pent-up ranting, but without the nastiness.
The Heist is hip-hop, but not what you expect American hip-hop to be. Take Can't Hold Us for example, which has hints of Michael Jackson's They Don't Care About Us, with the soul of Hypnotic Brass Ensemble and the fruity pop experimentalism of Nicki Minaj, and there is an escalating intensity to Make the Money with penetrating pitter-patter beats beneath simple, refined piano chords.
There is a haunting and echoing beauty to some of the songs that, musically at least, makes them sound more like a product of Britain than the Pacific Northwest. Instrumental BomBom is a cross between a classical piano prelude and an unhinged banging house tune, and Neon Cathedral, as well as sampling what sounds like British minimalists the xx, is at its best when the strings soar.
Though they could do with a change of band name, to something more unifying and pithy, there's no denying they're making some of the most clever, thoughtful (even if some of Macklemore's personal troubles are presented a little earnestly at times), and, most importantly, fun music out there today.
Stars: 4/5
Verdict: Sample the many other wonders inside this duo's thrift shop
Click here to buy a copy of The Heist.
- TimeOut