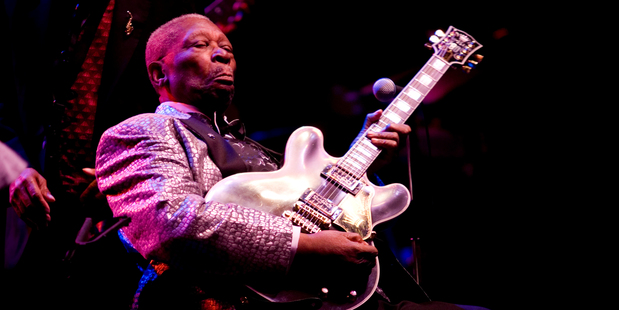 The last of the great bluesmen has been back home to Mississippi to play to family and friends. On the eve of his 87th birthday, the maestro talks about his rise from the cotton fields to international stardom
The fat, red sun settles itself against the horizon, throwing a last, honey-sweet light through humid evening and over a small crowd on the lawn beside a railroad track that cuts through the cotton fields beyond.
The compere announces: "How about an Indianola hometown welcome for the one-and-only King of the Blues: BB KING!"
And on he comes, to applause from people who know him well and claim him as their own - the last of the blues masters a few weeks short of his 87th birthday. "Nice evening, isn't it?" he says, and introduces his nephew on sax.
Some of his 15 children (all by different mothers) and innumerable grandchildren are in the audience, though one of his daughters died recently of diabetes, as had BB's mother - a poignant riptide beneath the occasion.
"I guess you can look at me," he says from the stage, "and tell I'm the old man. My name is BB King."
Backed now by a lilac glow in the western sky - and looking east towards the village of Itta Bena, where he was born - BB sits down and starts up the show. He reaches Key to the Highway, and there it is: that one long and trembling note, hanging there in the wafts of barbecue smoke, like only BB King can play it. He rolls his eyes, raises his eyebrows, then stares out into the crowd - and there's a collective gasp, a ripple of applause, and a mutual bond of affection.
This is a huddle, not a crowd, really. The town has come to hear its famous son: mostly black people - in families, many with a picnic - plus a few whites with ponytails, ZZ Top beards or other gestures of nonconformity.
The maestro's sonority on guitar is as inimitably perfect as ever. After one long, searing note during The Thrill is Gone, BB King darts the stare of a clown right into the front rows, as though to say: "How about that!?"
This is the 35th Homecoming concert, an event initially staged in memory of Medgar Evers, the civil rights activist and friend of BB's assassinated by a member of the Indianola-founded White Citizens' Council. There is something important about BB King's appearance, for the simple reason that even if he is still touring as a 90-something, there will not be that many more of these; nor will there be occasions upon which this great man will reflect on his extraordinary life, which began when he was working out there on the cotton plantations, living alone in a shack, having outlived his mother and then his grandmother.
All the more reason for that remarkable life to be recounted on film. Jon Brewer's The Life of Riley, released this month, was made after hours talking with BB King, with those who grew up around him, and those who followed his example. Even more important than the tributes from stars - Eric Clapton, Keith Richards, Bono et al - are the recollections of people like John Fair and Clemmie Trevellaine, who sit on the porch of their home remembering the day that 9-year-old Riley B. King cycled home to live among the cotton fields, working behind a plough, holding the reins of a mule.
"I knew none of this," says Brewer. "I had no idea this had been BB King's life. That he lived alone, in a shack out there, at 9 years of age, working for four years to pay off his dead mother's and grandmother's debts. I never knew he was so alone, talking to rabbits, his only friends. And by the time he's telling me this, I'm in tears."
So it's also a good time to speak directly to the master in his home town, just after his bus pulled up in BB King St, where, before performing, he broke ground for a new pavement complete with flagstones which will tell his life story.
"I remember the holler," says BB. "Holding the reins of a mule pulling a hoe through them cotton fields." The field holler, he explains, was a lament sung on a minor scale by a single voice. It is the descendant of the slave chants and responses wherein the blues began. It also functioned as a communication to alert others in the field that the boss was coming, or that water was needed.
"Yeah, the holler is where it all started. I think it's in all of us."
Riley B. King was born on September 16, 1925, great-grandson of a slave. He moved soon after with his mother to Kilmichael, in Hill Country, to work as a farmhand and listen to his aunt's Blind Lemon Jefferson records. His uncle, the great bluesman Bukka White, would visit from Memphis - play and sing.
First BB's mother died, then the grandmother in whose care he had been placed. "The blues," he would later write, "was bleeding the same blood as me". Picking cotton for 75 cents a day, BB had coveted the local preacher's guitar and was even allowed to "play a few chords he taught me". He then made his own, he says: "We used to make it with wire, the kind you use to make a cotton bail, and tie it to a broom handle. Clamp it down, the sound changed, and I'm playin' music."
There followed an unhappy period with his father's family way south in Lexington. There, BB witnessed the lynching and castration of a young black man by a white mob - his crime had been to wolf-whistle at a white girl. Riley King fled Lexington, and his father's new family, cycling alone "like a bat out of hell, never to return", back to Itta Bena.
Nine-year-old Riley King was now back in the Delta. "Cotton was a force of nature. There's a poetry to it, hoeing and growing cotton," he later wrote. Under the pecan tree, he adds: "Though it didn't make none of my people rich. I figured out that I must have walked around the world, all those hours and days and weeks behind a mule."
On Saturday nights, workers left the fields for town. "I was peeping through the slats at a place I'm playing later tonight they call Club Ebony," recalls BB, "to hear Count Basie play, Charlie Parker, too - and see all those beautiful women in tight dresses jivin' away".
Young Riley King sang gospel on the street corners of this town, refining and defining what became BB's extraordinary voice.
Several adventures later, BB fulfilled his dream of reaching Memphis to play. He recalls a crucial moment in the history of the guitar style which became his and his alone - the vibrato that is instantly recognisable as BB King's after only a single note. He was staying with Bukka White, and "Bukka used to play slide using a bottleneck, or just a piece of pipe.
"I wanted to do that, and I tried and he showed me how - but I got stupid fingers, see, and I just couldn't do it." However: "The sound Bukka made went all through me, and I devised my own technique for producing the tremolo without the slide."
He calls it "the butterfly. I swivel my wrist from my elbow, back and forth, and this stretches the string, raising and lowering the pitch of the note rhythmically.
"With my other fingers stretched out, my whole hand makes a fluttering gesture, a bit like a butterfly flapping its wings."
Thus the BB King sound was born; a sound that expresses mood, feeling - blue or otherwise. BB King called his guitar Lucille after someone else's fight in a juke joint knocked over a container of kerosene that was the heating system.
The place caught fire, the crowd fled, but BB realised he had left his guitar inside and ran to get it. Chastised for his recklessness, he discovered that the fight had been over a girl called Lucille.
"I named my guitar Lucille," he says in The Life of Riley, "to remind myself not to do something like that again, and I haven't."
Blues Boy King - shortened to BB - became a radio star at WDIA, the blues station in Memphis. He built his band, he ensured that he tour on a bus, he made lifelong friends, he left his first wife and indulged his love of women.
"I've put up with more humiliation than I care to remember," King wrote in his autobiography Blues All Around Me. "Touring a segregated America - forever being stopped and harassed by white cops ... "
There was one night at the Gaston Hotel in Birmingham, Alabama, where BB King was staying at the same time as Dr Martin Luther King, when "they bombed the place. The bomb rocked my room". Now BB King is back to be honoured in the city where the White Citizens' Council was formed.
BB King, sitting under the pecan tree, is not as satisfied as one might expect him to be with "progress" since the bad old days. He jammed at the White House with a black president, and there's a BB King Day in the Mississippi calendar - but also the confederate ensign is its state flag.
"We've come a long, long way," says BB King, "but we ain't come far enough. There's still a long, long way to go." I ask if he is aware of his own role in that "long, long way" since he saw a man lynched and shared a bombed-out motel with Martin Luther King.
"I'd like to think I made a lil' footprint in the sand," he replies, and puts his arm around a boy next to us. "This here little boy's the same age as me when I was holding the reins of a mule. He won't never know those times, but I wonder what this boy will grow up to do. I wonder ... "
BB King ends our interview with an observation that hallmarks true greatness. "I think I've done the best I could have done. But I keep wanting to play better, go further. There are so many sounds I still want to make, so many things I haven't yet done. When I was younger I thought maybe I'd reached that peak. But I'm 86 now, and if I make it through to next month, I'll be 87. And now I know it can never be perfect, it can never be exactly what it should be, so you got to keep going further, getting better."
On the subject of women, BB King's book is markedly - almost disarmingly - candid. And he says now: "I never met a woman I didn't like. I love 'em all, in their different ways" - and sure enough, just then a lady demands his attention.
"You know," he muses in my direction, "if I find myself a nice wife who'll give me a chance, I may just come back to Indianola!"
He turns to the lady in her splendidly coloured dress: "Are you married?"
"No sir," she replies.
"You shouldn't be telling me that kinda thing," confides BB.
Two hours after bidding farewell, BB takes the stage at Club Ebony.
He picks up Lucille and plays those notes and swings through his all-time greats.
For Every Day I Have The Blues, BB's voice is like that instrument again, at once guttural but velvet, while he apparently sings with his guitar, Lucille, talking back. "Not bad for an 86-year-old," he says, signing off the night that has now become early morning in cotton country.
- Observer

Ed Vulliamy is a British writer and former foreign correspondent for the Observer and the Guardian. He has twice been named Britain's Foreign Reporter of the Year.
The Life of Riley is released in Britain next week. No release date is available for New Zealand.