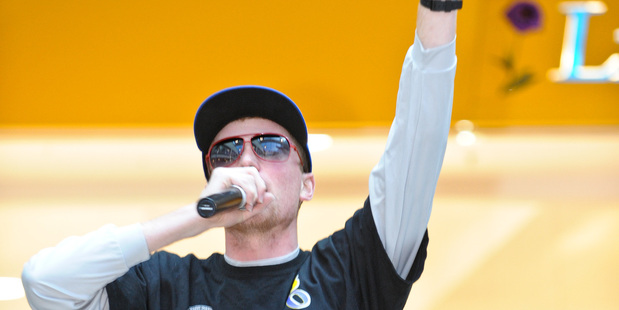 It's not unusual to hear beatboxing or rap music spilling down the corridors from Tom McFadden's work space in the Division of Sciences at the University of Otago.
For science buffs in the building, the music is both uncharacteristic but strangely familiar.
That's because the music isn't about gangster violence, girls or money.
It's Mr McFadden (also known as The Rhymebosome) rapping about scientific theory on things like DNA, electrons or how glucose is converted into energy or ATP through glycolysis and the Krebs cycle.
The award-winning Stanford University (USA) biologist is studying a Masters in Science Communication at the University of Otago, and will make a welcome return to this year's eighth New Zealand International Science Festival (May 21-30).
He parodies the music of rap artists like 50 Cent, Jay-Z and Cam'ron to communicate complex science concepts to children and senior students.
"I don't take myself too seriously as a rapper. I love science and music, and somewhere along the way, the two merged,'' he said.
Courtesy of the United States Embassy, Mr McFadden will visit primary and intermediate schools in Auckland, Wellington, Christchurch and Dunedin in a bid to get pupils to turn science into rap, in keeping with the festival theme "What makes us tick?''
The festival will culminate with a science idol rap competition, with the winner coming to Dunedin to professionally record their audio in the world-class recording studio at the University of Otago's Albany St studio.
The winner will also shoot a music video and perform live with Mr McFadden.
"In 2010, I was lucky to be able to share my enthusiasm for biology and hip hop with Dunedinites."
"By spreading the word far and wide this year, I think we're going to be able to take the integration of science and music to the next level."
"I can't wait to see what they come up with.''
United States ambassador David Huebner said it was great to know people like Mr McFadden were out there, making science accessible and interesting for young people.
"Tom's crossover performances are not only a big hit in the classroom, but also with his academic colleagues."
"He was awarded a prestigious Fulbright Scholarship to study and teach in New Zealand.''
Festival director Chris Green said there was a great response to Mr McFadden's performances in Otago in 2010, and as a result, the festival organisers decided to extend the Science Idol competition nationwide to give all pupils the opportunity to get creative with science.
Highlights of the nine-day festival include appearances by leading international scientists, stimulating workshops, stunts, street science events, expos and entertainment, he said.