Singer-songwriter Lindon Puffin is emerging from the underground, writes Lydia Jenkin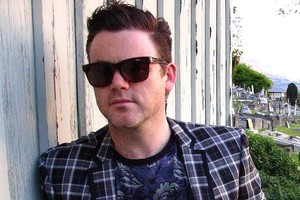 For more than 10 years Lindon Puffin has embodied what it means to be a DIY troubadour.
Eking out a musical living in various guises - in the late 90s he fronted glam rock band The Puffins, before going solo as an alt-folk act with occasional punk leanings - this fast-talking joker has toured New Zealand and the world, and even made a movie about it: his hilarious 2005 tour doco Figure 8000.
But despite two well-received solo albums (made in his garage in Lyttelton), he's remained firmly underground.
That's not to say he's gone unnoticed. He's supported international acts like Tenacious D and Billy Bragg, and his keen sense of humour attracts a wide circle of friends around the country (Jordan Luck even lets him come round to watch the cricket sometimes).
But with his third album this Puffin might finally be spreading his wings. Hope Holiday, sees Puffin (whose real name is Lindon McCormack) discarding the "indie" mantle, having opted to leave behind the torturous home recording of his first albums and heading to a studio with a band.
"The DIY thing, we take it too far at times. There seems to be some perceived virtue in doing the 'man alone' thing, but it cuts both ways. You can do it all by yourself in a bedroom, but it takes months, and there's so much flagellation and doubt that goes in there."
While making the album, he had something of a revelation: he's not really an alt-country musician with vague punk leanings, he'd turned to alt-country almost by default.
"Songs turn out a certain way when it's just you, a guitar and a harmonica, it almost can't be helped."
Puffin, in fact, writes very good pop rock songs that sound best with lots of nice guitars, drums and bass.
It seems when you throw established musicians like Jol Mulholland, Brett Adams, Andrew Keoghan and Wayne Bell into the mix, Lindon's songs even have touches of Crowded House or New Wave about them. Catchy riffs, strong forward momentum and lyrics that look at love from any number of angles.
Hope lost and faith found are also big themes, and several of the songs have taken on new meaning in light of the tragedies that have befallen Puffin's hometown of Lyttelton in the past year, even though the album was finished before the earthquake.
"People are asking those questions, you know, 'is this a reference to the earthquake?' or, with a song like Drink Like Police [which is about survival in difficult times], they assume it has those meanings.
"But I guess you're singing about change in your own life anyway, and it's sort of like horoscopes, you can make things relevant. So I call them accidentally relevant songs.
"And now that we've made it through the winter, and things slowly seem to be turning around, it seems like the perfect time for the album to come out."
Indeed it could be the ideal summer album - the stylish cover art, a painting by Melinda Butt, with its colourful scene of Parakai Pools even says so - but it wasn't always headed in this summery pop rock direction (albeit one with a serious side).
Having recorded the demos at home, Puffin decided that they needed some further collaboration and came up to Auckland to work with Mulholland along with engineer at The Lab studio, Olly Harmer on building up around 20 "glorified demos".
He was all but ready to release them as an album mid-2009, and then through mutual friends he passed the tracks to Lorraine Barry (who manages Dave Dobbyn and Bic Runga) for a listen.
"She really liked it, but she was quite honest and quite confrontational, and said 'There are some good songs in here Lindon, but if you put it out like this it won't go anywhere. These songs have the sort of potential that means they could get commercial radio play, if that's what you want, but you're going to have to record them properly'.
"I don't know if I agreed on the day, but it was definitely true."
Having unintentionally moved to Auckland by this point, he decided to bite the bullet, save some money and go back to the drawing board, getting Bell on board as a producer, along with the talented aforementioned band.
He managed to get Creative New Zealand funding, and earned himself some studio recording time by doing some labouring.
"I did a lot of renovations for The Lab. The studio needed a whole lot of work."
Despite the extra effort and cash required, it was a wise decision, Bell's "outsider" ears picking up on the fact that perhaps Lindon hadn't always wanted to be an alt-country musician.
"I did listen to a lot of The Warratahs when I was younger, particularly one tape that I had in the car, but I was much more a Pink Floyd, Fleetwood Mac kinda kid when I was 12 or 13. Back then when you didn't care, when you got Pink Floyd 'cos your mum's friend had it, and you listened to it obsessively on your first tape deck."
Even though there was some initial anxiety about the direction his new bandmates were taking things in, particularly on the first day when they managed to change the arrangements of first single Outta Reach before lunchtime, he's all the more proud of the album now.
"I just had to let go and enjoy the fact that these guys would take it somewhere different. I wish I'd done it a long time ago."
"You've got to be proud of it, when you're giving it to people at gigs, or trying to sell it personally, and really believe in it."
Puffin will be on the road touring with a full band, which includes Keoghan, Adams, Bell and former partner Victoria Girling-Butcher, with whom he's sharing album release celebrations in Auckland.
Lowdown
Who: Lindon Puffin
What: New album Hope Holiday, out now
Where and when: Dual album release show with Victoria Girling-Butcher at Backbeat Bar, K' Rd, Auckland, Friday with full band
-TimeOut