Former Mint Chick Ruban Nielson tells Scott Kara about why the fraternal band spilt up and his new US-based group.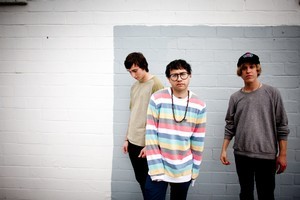 If the Mint Chicks' music was driven by violence, chaos and negativity, then Ruban Nielson's new band, Unknown Mortal Orchestra, is about fun and freedom.
There's the woozy hilarity of Ffunny Ffriends, a fitting opener to the self-titled debut album that came out this week, as well as the moochy beatnik boogie of How Can You Luv Me, and the tranquil psychedelic pop of Little Blue House. It's a short, sparkling, and often arse-shaking blast of innovation.
"I'm pretty determined to not make the same mistakes I made in the other band," says Nielson on the phone from Portland, Oregon, where he has lived with his family - wife Jenny, son Moebius and daughter Iris - since 2007. "Not allow negativity to drive everything, and the Mint Chicks was partly about that, and partly about violence. But now I feel like being more constructive and open-minded and not having as many rules in the music.
"I have a lot more fun that's for sure, and I've mellowed a lot more, which I think is healthy," he laughs.
Not that he has any regrets about the Mint Chicks, the band he formed with his brother Kody, drummer Paul Roper and bass player Michael Logie in the early 2000s.
After years of crazed - often lunatic - on-stage antics, the release of three albums, and wide acclaim, with the band winning five awards at the 2007 Tuis for Crazy?Yes!Dumb?No!, they split up last year.
The band had run its course, and Nielson knew it.
"The music part I was enjoying but the personal relationships were ... dysfunctional. And I guess [they] were always dysfunctional, and that was the thing that created all this friction, and would make for good shows, and good records. It was a good thing for a long time. Maybe it was everybody getting a bit older, or something, but it just started feeling like the music was taking a back seat to this other stuff."
It didn't help that Nielson felt like he was the only one who was serious about the band. There were a few incidents that were the last straw he says, including Kody pulling out of performances he was meant to do.
"And he'd left me hanging a couple of times and I just thought, 'this guy doesn't want to do it'. And Michael [Logie] had already quit the band once, and it felt like everybody wasn't that into it. I can't do that because my brain is always going a million miles an hour and I can't settle into that half-arsed state of mind."
So he told them he was going back to Portland, get a folio of his illustrating work together (Nielson did the Mint Chicks' artwork), and get a job. There were also the practical circumstances too, like becoming a dad, with a second child on the way, and the need to earn a solid crust.
But in typical Mint Chicks fashion there was drama and fireworks to mark their swansong, their last show descending into chaos when Kody destroyed most of the band's gear and stormed off stage.
All is forgiven between the siblings now, and Nielson is just happy to have his brother back.
"We always had this ability to communicate without really having to talk. After a while though it got to the point where it didn't really feel that way so it just got to the point where I just want my brother back. At the moment it's really good."
He loves checking out Kody's new music with Bic Runga and, likewise, Kody is a fan of his brother's music.
UMO started off very secretively, and mysteriously, because there was a low-key, almost casual beginning to the writing and recording of these songs. Once back in Portland and doing his day job, Nielson started pottering around at night coming up with songs - and the result is Unknown Mortal Orchestra.
"I still haven't really got my head around how they came about. Out of all the music I've ever made it was the least ambitious beginning," he laughs. "And it's weird that it's gotten to the point the record is [out] in the States and there's this much hype around it. It's encouraging though, I guess.
"It's a bit of a cliche but I was just making the record for myself. I had a lot of mental space to work in. No one was waiting for me to make music, I really just came back to making music for myself and making music for all the right reasons."
He didn't plan on doing anything with the songs, but on a whim sent some tracks to his favourite blogs late last year and from there UMO took off. And he says ever since it turned up on influential music website Pitchfork, the band has been in constant demand, including attracting a deal from Mississippi indie label Fat Possum.
"I have a really simple idea about what I'm doing: making the best music I can imagine and trying to sell it to people so I can feed my family. Having something that simple makes things kind of straightforward and easy," says Nielson.
So life is good. The Nielson family is moving out of the yurt (a kind of tent-cum-teepee) they've been living in for a while now. They are buying a house and no doubt the money Fat Possum coughed up will come in useful for that.
"It's time to buy a house now, you know - and life is ticking over."
He won't be home much however, because UMO - also made up of Portland producer Jake Portrait on bass and teenage drumming prodigy Julien Ehrlich - are touring non-stop until the end of the year and into the next, including a trip back to New Zealand. But because he will be away from his family, he's giving himself a timeframe to see if the band works.
"I'm going to give myself a year and a half. I think if it makes [my family's] future better, it will be worth it. If not, I'll get a job that doesn't take me away from the people that I love."
LOWDOWN
Who: Unknown Mortal Orchestra
What: New band of former Mint Chick Ruban Nielson
Debut album: Unknown Mortal Orchestra, out now
- TimeOut