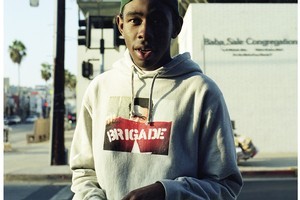 This young rapper and production whiz has an ego the size of Kanye West - and he's still only 20.
The thing is, he could just live up to his own hype - and the growing noise around his production and music-making prowess that has him tipped as the next big thing to arise out of the underground.
There's his chest-beating alias for a start, even though his real name, Tyler Okonma, has a certain star quality to it too. He also has the backing of his confrontational rap collective Odd Future (short for Odd Future Wolf Gang Kill Them All). Charming stuff from such young chaps.
Then there's the lippy lyrics and rhymes of the Los Angeles' native's songs, about everything from being an over achiever and having his lewd ways with the ladies, to eating cockroaches and fantasising about a savage and bloody attack on pop upstart Bruno Mars.
He's prolific too, and as well as producing a number of other artists, Goblin is the menacing little whipper snapper's second album following his self-released and well-received debut Bastard in 2009.
So all this makes him worthy of being rap latest braggart. Not that Goblin is your typical hip-hop fodder from the West Coast. It takes some getting used to. Tyler is mean and scary. But while he raps a lot about puerile nonsense, and it's riddled with profanity and sexist bravado, his rhymes are clever and executed with sinister grace.
He also has a funny bone, albeit a twisted one, like on the introduction to Radicals where he warns kids not to do anything he says in the song - "It's fiction," he sneers - before he proceeds to condone burning things, leaving school, and far more extreme and dodgy behaviour.
Musically Tyler's production is down beat with a suffocating minimalism to it and the sonic lope of Tron Cat is liable to turn your ears, and brain, inside out.
Another element that adds to the album's menace is that Tyler has many - often ominous - voices going round in his head, and throughout Goblin he's in talks with his "fictional" therapist Dr. TC.. The guest vocalists lighten the tone a little with Odd Future's Frank Ocean providing some especially, er, tender moments on She and Fish with his Prince-like soul singing.
Last track Golden, backed by an eerie choral choir and ragged thudding beats, is a haunting set up for what brilliant terror Tyler might subject the world to in the future.
So be afraid, be very afraid. But for those up for some confronting, unnerving and inventive music young Tyler is your man.
-TimeOut