On the eve of his latest album release, Kiwi rapper David Dallas is making serious waves in the US hip-hop scene, writes Jacqueline Smith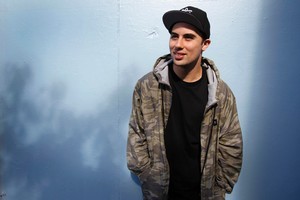 In one of his newest songs Caught in a Daze, David Dallas says he is showing his mother what a boy from New Zealand can do when he sets his mind to it.
The Papatoetoe-raised hip-hop artist is now living it up in Harlem, New York, and has been signed to notable American label Duck Down. His video for Big Time is playing on MTV music channels and the likes of Kanye West have been hailing his work.
At midnight last night his latest album The Rose Tint was released for free download. It feels like things are happening, he says, though it's a difficult concept to explain to his family when he comes home, especially his mother.
"She will always say, 'oh, are you just going to rap on this? Why don't you sing?' I say, 'because I'm a rapper', and she says, 'yeah but you aren't going to rap forever'," he laughs.
"My mum is never happy with what I'm doing. She's super-proud, but yeah, I have been trying to explain what's going on now and it's very difficult.
It was hard enough to explain that I was making albums and singles and videos but now that I'm in America and my stuff is on American hip-hop websites and on MTV in America she says, 'oh, okay so when's that on here?' Then she's like, 'what! You are putting out an album for free, how are you going to make any money?'."
But, says Dallas, in his warm, softly-spoken way, right now, it's all about getting noticed. Fame first, and the fortune should follow.
"Even on the last album, when it started to get noticed internationally, I was like, man if I had given this album away for free it could have reached so many more people. That's ultimately what you need, you want people to hear it. You think, would you rather a thousand people heard it or would you rather sell it to one hundred?"
Every day the international hip-hop community is fed new material - by very talented artists - through niche websites and blogs. In America, these sites attract daily traffic that equates to the population of New Zealand, he says.
"I go on these blogs and websites every day. Artists on there get an international following. It's more than you would get here [in New Zealand]. Here you have to be on mainstream radio, you have to get on TV, but there you can get on these sites and your music is exposed to the entire world.
"I just thought, why can't New Zealand music be on these things?"
Thanks to a proactive fan who sent Dallas' tracks to well-browsed website illroots.com, Dallas did become an international discussion point.
Employing direct marketing, he sent the next video Big Time out to people who had reposted his earlier tracks and watched as the track started to "get more love".
To further his American network, Dallas headed to the States to attend the CMJ Music Marathon and South by Southwest (SXSW) festival and then slotted into the rap community of Harlem. New Zealand contacts helped him secure a rap cameo by American Freddie Gibbs on track Caught in a Daze, and to secure the deal with Duck Down, which Dallas says gives him an edge over other artists.
"There is so much rap music in America, you need something legitimate behind you to make people actually check you out."
Though his focus is on larger continents at the moment, Dallas is quick to say he has not turned his back on Kiwis.
"It's just I'm not doing anything to appease anyone in New Zealand because I have got my fans here," he says.
Dallas' music career has been entirely built on contacts, and, he says, good fortune - he was never one of those kids who entered talent quests. He just rapped along to the Bartman.
But while doing a computer science degree, he learned to record himself. He tested his own raps on his music-minded friends, and got the seal of approval.
"I was really lucky the first people I showed my music to actually encouraged me. Because if someone had said 'bro you suck', I would have said 'oh yeah I do eh', and would have given it up."
Less than a year later he appeared on Scribe's 2003 hit Not Many. And it was about that time that he thought he would put computer programming on the back-burner to give music a whirl.
His new music, which features locals Che Fu and PNC, was almost entirely written, recorded and remastered in New Zealand, which he says gives his music a story that interests the people he meets on his travels.
Dallas is settling into the concrete jungle of Harlem where, unlike spacious Papatoetoe, he has found that alone-time comes at a premium. But he's lapping up being part of the hip-hop scene there, and recently attended a Nate Dogg tribute show with Snoop Dogg and Warren G. "It was one of those things where I was like, 'man I wish I could bring all my friends from New Zealand to this'."
LOWDOWN
Who: David Dallas
What: Album The Rose Tint available for download today through www.daviddallas.co.nz
- TimeOut