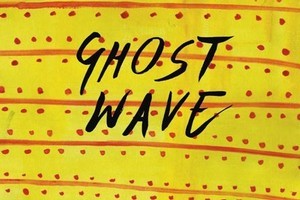 With some of the momentum of the Clean, urgent droning vocals and pure psychedelic guitar jangle, this debut EP by Auckland-based three-piece Ghost Wave touches a lot of familiar places - you could add JPSE and some of the Manchester guitar bands to those reference points - but they do it with such economy and style it comes off as joyous ... and the sound of a band on a mission.
The first single from this peppy seven-song collection is the shimmering, unashamedly poppy Sunsetter which lifts its sights from shoe-gazing into a summery swirl of guitars and airy vocals.
The longest piece here - at just four minutes - is the darker psyched-out trip of Mood Ring which sounds closer to Krautrock of the 70s.
They aren't afraid to pull themselves back for Shade (the Clean/David Kilgour with surf guitar), then let fly with the quasi-industrial attack of the thrilling Hippy at the end which is urgent rock and - like everything here - doesn't outstay its welcome.
Tight, smart and more than just the sum of their influences, this is a band with an impressive and wide-ranging debut which more than just hints at the better which will undoubtedly come.
From the trippy opener Sounds, they deliver on all fronts.
Stars: 4/5
Verdict: First time out trio impresses on a slightly retro but exciting debut
- TimeOut / elsewhere.co.nz