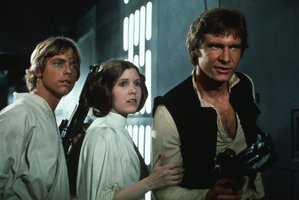 The latest Star Wars film will be made in the UK.
Due to start production next year and be in cinemas in 2015, the much-anticipated seventh episode of the series is being directed by Emmy-award-winning JJ Abrams.
Confirming the move, Lucasfilm president Kathleen Kennedy said she was "delighted that Star Wars is coming back to Britain".
Chancellor George Osborne took to Twitter on Friday to reveal the decision, joking: "May the force be with us..."
"Today's announcement that the next Star Wars film will be shot and produced in the UK is great news for fans and our creative industries, and it is clear evidence that our incentives are attracting the largest studios back to the UK", he said in an official statement.
"I am personally committed to seeing more great films and television made in Britain."
Kennedy said they had devoted "serious" time and attention to revisiting the origins of Star Wars as inspiration for the new movie.
"I'm thrilled that returning to the UK for production and utilising the incredible talent there can be a part of that."
Lucasfilm representatives met with Osborne earlier this year to work on a deal to make the film in this country.
All of the six previous Star Wars movies have included UK production. Parts of previous films were shot in studios steeped in British cinematic history, including Elstree, Shepperton, Leavesden, Ealing and Pinewood Studios.
Star Wars: Episode VII is being scripted by Toy Story 3 writer Michael Amdt and directed by Abrams, who was behind TV's Lost and was also picked to revive the Star Trek franchise.
The director has been described as the "ideal choice" by Star Wars creator George Lucas. Lucasfilm was bought last year by Disney for US$2.7 billion.
- AAP