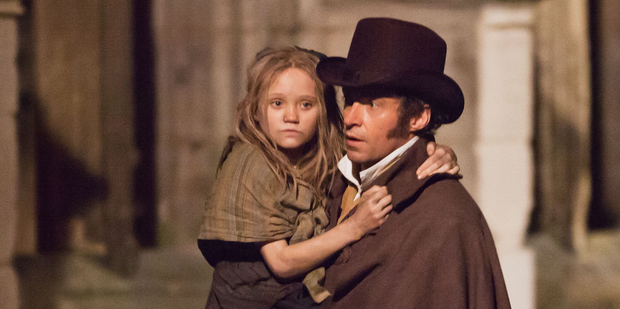 The first big scene in this film version of the world's biggest stage musical is really quite, well, big. It involves many men - among them, an unrecognisable Hugh Jackman's about-to-be-paroled prisoner Jean Valjean - in a tug of war with a sailing ship they are trying to pull into dry-dock from stormy seas.
It's a grandiose set-piece, which sure says this isn't just the old stage production shifted to a film soundstage. No, here we're in for a sweeping period epic. Only with songs. Lots of songs...
And sweep it does, from that waterfront of 1815 Toulon to the Paris Uprising of 1832, with director Tom Hooper's ambitious production looking, at least, like a grand and grim rendering of Victor Hugo's novel than the stuff of Broadway or West End set design.
Add the director's insistence that his cast sing their parts live in front of the camera, rather than lip-synch to polished studio recordings, and to deliver the entire story without reverting to spoken dialogue and you've got a rare thing: a movie musical that still wants to challenge audience expectations rather than just put on the same old show.
But while doing that, this Les Miserables still falls short of being a movie as great as its ambitions.
It certainly has some bravura moments - among them Hathaway's solo turn as the doomed destitute Fantine. Her devastating take on the show's best tune, I Dreamed a Dream is an early high point and reclaims the song from being the empowerment anthem of Susan Boyle's rise to fame. Showstopper over, Fantine soon departs and she's sorely missed for the rest of the movie.
And there are good singing turns too, especially by newcomers Eddie Remayne's Marius and Samantha Barks' Eponine. They also benefit from not having the distraction that comes with watching the efforts of the more established stars - hey, that Wolverine guy can hold a note! - involved.
Despite his rock 'n' roll sideline, Russell Crowe is vocally underpowered as ruthless gendarme Javert. Sacha Baron Cohen and Helena Bonham Carter's wacky turn as the dastardly Thenardiers - foster parents to Fantine's daughter Cosette whom Valjean adopts - seems to have arrived from another musical entirely. Sweeney Todd perhaps.
But the uneven performances aren't the big problem here. Neither is the curious sense of distance between those captured-live voices and the added-later orchestral score, which undermines the vast suspension of disbelief required of musicals.
No those old tunes still hold up, it's just that the film itself has very little sense of rhythm. It's a movie of curiously agitated - and agitating - camerawork, which has then been given over to hyperactive editing. Still, this Les Mis offers plenty that is plain stirring, especially in the latter barricade stages - all together now: "can you hear the people sing?" - especially if you have a lasting affection for the original show.
Stars: 3/5
Cast: Hugh Jackman, Anne Hathaway, Russell Crowe, Amanda Seyfried, Eddie Redmayne, Samantha Barks, Helena Bonham Carter, Sacha Baron Cohen
Director: Tom Hooper
Rating: M (violence and sexual references)
Running time: 158 mins
Verdict: Not quite the revolutionary musical it promises to be
- TimeOut