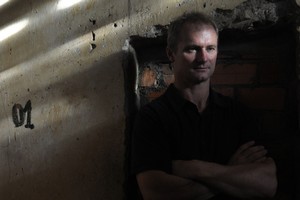 If there is any justice, the Sky City Theatre will be bulging at the seams for today's screening - the only one outside normal working hours - of Annie Goldson's exquisitely restrained documentary Brother Number One.
Goldson, a professor in the Department of Film Television and Media Studies at the University of Auckland, is a prolific filmmaker and a generous collaborator with and mentor of younger documentarians.
Many of us have been deeply impressed with her earlier work, in particular the powerful Punitive Damage, about the death of Kamal Bamadhaj in East Timor, and An Island Calling about the brutal murder of Fiji Red Cross director John Scott and his partner of 20 years, Greg Scrivener.
But I have to say that this film is the best yet, largely because it has the vital ingredient of all the best documentaries (and all the best fiction films) have: a compelling main character.
Rob Hamill, the Olympic champion and transatlantic rower, follows in the footsteps of his big brother Kerry, murdered by the Khmer Rouge in Cambodia in 1979, and confronts the man who presided over the slaughter.
And in the process, he emerges as an unlikely film star and an embodiment of great Kiwi virtues - modesty, loyalty, integrity, determination. This is a very special and deeply moving film.
I made a last-minute decision to see Project Nim yesterday morning after hearing Kim Hill interview director James (Man on Wire) Marsh.
I think it safe to say that all of us found it a pretty trying experience: at the point where Nim was handed over to an institute for medical experiments, half a dozen people made for the door. But as a whole the film was just deeply sad, a testament to the hubris, self-absorption and arrogance of humans.
Also on today: the first of two screenings of Fritz Lang's 1927 masterpiece Metropolis. You'll get one more chance to see this tomorrow and another in November when the NZSO will play the score live.