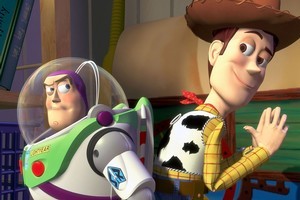 I suppose we should be happy that The King's Speech looks to be presumptive winner of Best Picture at the Oscars on Monday. After all, it's packing them in locally.
As well, a couple of speech therapist Lionel Logue's sons are played by young Kiwis - New Zealand being the best place to find nicely spoken Australian kids from the 1930s, apparently. Oh and George VI was our king too.
The film's American-based English screenwriter David Seidler has New Zealand connections. He has a son here and his former wife and screenwriting partner, Jacqueline Feather, is an expatriate Kiwi who now practices as a psychoanalyst in California.
Seidler could well take away the Best Original Screenplay on the night. After all, it's been a long-held dream project of his, awaiting the expiration of the Queen Mother before it could be made into a film.
Funnily enough, Seidler and Feather's past co-write was a 1999 cartoon version of the musical The King and I, the storyline of which The King's Speech somewhat resembles.
But it shouldn't win best flick. And not just because the Aussie and English media will be as insufferable as we were back when Return of the King won 11 Oscars if it does.
It's because while it's a very good picture, it's not the best picture. It's not even the second best picture of the 10 - that's three-way a tie between The Social Network, True Grit and Winter's Bone. Yes really.
No, the best picture is Toy Story 3. Yes, the 3D kiddie cartoon. The one with Barbie and Ken. The one that made grown men cry and ended the greatest animated trilogy ever. One made by a company, Pixar, whose successes, which began with the first Toy Story, started a golden age of big screen animation.
Toy Story 3 is only the third animated film nominated in the Best Picture category after Beauty and the Beast in 1992 and Up last year. Pixar's Wall-E was snubbed in 2009. And Toy Story 3 is better than all of those.
If Return of the King's many prizes saluted that entire trilogy, then surely Toy Story 3 deserves the same.
It's also bigger than any other picture in the Oscars. Having grossed more than US$1 billion ($1.3 billion) it's US$200 million ahead of the next biggest, Inception.
It's funnier than any other movie in that list. It had more laughs in its prologue than the three hours-plus of next Monday's Oscar ceremony will. It comes with no risk of its actors giving a tearful thanks to their agent, dog walker and pilates instructor.
It will inevitably win Best Animated Feature. It deserves the big prize too. Especially as its leading characters are about the same height as Oscar.
So there.
-TimeOut