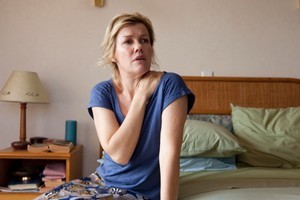 The chief problem with The Hopes and Dreams of Gazza Snell is Gazza. As played by William McInnes, he's meant to be bit of a dag who needs to grow up, despite being a husband and father of two running his own business.
He emerges from this suburban drama, however, a tiresome drongo. Which is a pity, because there are some engaging sides to this debut feature by director Donovan and co-writer David Brechin-Smith, who both worked on the TV drama-comedies Insiders Guide to Love/Happiness and bring some of those shows' stylistic quirks to this.
But the script, while offering some high-volume character notes, can't sustain its storytelling over a feature-length, and it also suffers from one too many jarring clashes of tone.
Among the film's reprieving elements are some solid supporting performances by Malcolm as Gazza's long-suffering missus Gail, brothers Josh and William McKenzie as the go-karting Snell sons whose racing gives the film high-octane, low-budget action as well as delivering a tribute of sorts riff to Smash Palace.
Otherwise, it's a film where you aren't sure why the lead character got the job.
Sure he's running the family finances into the ground to support Team Snell, and he's got it into his mind to run for the local council.
But, Gazza also spends large parts of the film seemingly oblivious to the story's central family crisis, while the script throws in a Romeo and Juliet romance and a guilty secret for the elder of the Snell boys aligned to an attempt to say something about the Asianfication of Auckland's eastern suburbs.
Meanwhile Gail hasn't much to do but occasionally tear a deserved strip off her spouse while finding some solace in Ron from up the road.
So in the end TH&DOGS is just one of those local films you wished you could like more-while perhaps wondering why this might have worked better as an early blueprint for a TV series - but hopeless dreamer Gazza keeps getting in the way. Do add another star though, if you live out Howick way.
LOWDOWN
Stars: 2.5/5
Cast: William McInnes, Robyn Malcolm, Joel Tobeck, Josh McKenzie, William McKenzie
Director: Brendan Donovan
Rating: M (sex scenes & offensive language)
Verdict: Gazza runs out of gas
-TimeOut