Pack Chilly Bin and get to Pukekohe as Kiwi trio vie to show Aussie visitors who's boss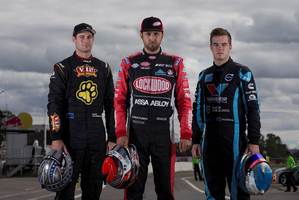 Pukekohe welcomes back the big, booming sound of V8s for the second year in a row after the return of the category to South Auckland after a five-year sojourn in Hamilton.
This weekend is the only time the Supercars are leaving the Aussie mainland.
Normally the races are held over two days, but this Anzac weekend there is a race on tomorrow, two on Saturday and the big feature race on Sunday. For the hardcore fans, getting your fill over three days of door-banging, shunting and sideways action is petrolhead heaven.
Formula One has just about buggered its cars with them sounding like a fart in a wetsuit and being half electric, so if you want to see, hear and feel real race engines working hard and see heaps of overtaking, pack the Chilly Bin and get to Pukekohe.
I've never been a fan of street-based races as there's too much point-and-shoot with heavy braking for 90-degree corners. The winner on those weekends is the team that has the most time and resources rather than great driver skill.
And you can't see much of the circuit either.
Give me a track that was purpose-built for racing any day where you get a view of various parts to follow the action. Fast, flowing sweepers test man and machine and reward nerves of steel. There's no track quite like Pukekohe to reward drivers who pucker up, take a deep breath and close one eye to stay on the throttle just that bit longer coming over the mountain and again heading into turn one.
These are two of the best places to see who's got their car working well. It really is a case of fortune favouring the brave.
The former king of Pukekohe, Greg Murphy, won't be looking down while the Aussies try to steal his thorny crown, rather he'll be looking to hand it over to one of the new princes of Kiwi V8 racing. He's got three good ones to pick from - Jandal Man Scott McLaughlin, Magic Man Fabian Coulthard and Rocket Man Shane van Gisbergen - who have all won races in the last 12 months.
The three Kiwis have already served notice on the 21 Aussies and one Swede in the field by qualifying in front of the entire pack at Winton. On home soil with thousands of screaming fans behind them they'll be on fire - well let's hope so anyway, as the Jason Richards Memorial Trophy is up for grabs.
No matter what happens over the three days the fans will be the winners and the championship table will no doubt change.
Oh yeah, it's going to be a magic weekend.
V8 Supercars Pukekohe
Friday
Qualifying Race One - 12.15pm
Race One, 35 laps - 1.37pm
Saturday
Qualifying Race Two - 11.30am
Qualifying Race Three - 11.50am
Race Two, 35 laps - 2.10pm
Race Three, 35 laps - 4.05pm
Sunday
Qualifying Race Four - 1pm
Race Four, 70 laps - 3.25pm