Mechanic has worked with US greats, writes Eric Thompson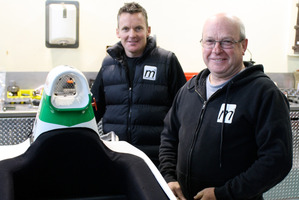 Defending Toyota Racing Series team M2 Competition have just added more grunt to their brains trust in a bid to not only win next year's championship but also offer a better service to the drivers, their managers and at times the drivers' parents.
Team principals Mark Pilcher and Jonathan Moury have hired veteran open wheel head mechanic Lou Schollum, who's decided to settle back in New Zealand after many years of fettling cars in the United States.
Schollum has an enviable record in American single seater racing, having worked with some of the great teams over a 26-year IndyCar career in the US. He's been with Pacwest, Team KOOL Green and more recently Andretti Autosports winning championships with drivers such as J. R. Hildebrand, Dario Franchitti and Dan Wheldon, plus Indy 500 victories with Franchitti and Wheldon.
Pilcher is certain Schollum's input will add strength and depth to his team.
"I've known Lou for about 15 years or so and he came and visited me at Hampton Downs back in February," said Pilcher. "He said he was back in New Zealand and so I got him on board.
"I identified last year that with six cars it was too hard not to have someone overseeing all the mechanics all at one time. Everyone was happy but I didn't think it gave me enough time to talk to the fathers and managers of the drivers.
"A chief mechanic was exactly what we wanted and Lou fitted the bill better than anyone."
Other team staff imports for the 2014 TRS season include a team of six engineers and three mechanics from Europe all currently working in DTM, GP3, Formula Renault and Formula 3.
"If you took 10 guys just from our team you'd have no problem in running at least a GP2 team. That's what I've always tried to do - get the best people I can and it will always end up paying off.
"You've got to remember these young drivers spend all their time on the internet and they pretty soon work out who's working for whom and that most of our guys are working for some pretty high-profile teams in Europe," said Pilcher.
"The drivers also realise that they gain an advantage on the return to Europe in the first third of their respective seasons because they are much sharper than the rest of the European fields."
Schollum believes the racing series is a great platform for up-and-coming young drivers to get more seat time in an open wheel racecar and it's a series he'd like to see more American drivers come and chance their luck in.
"Mark Pilcher runs a very good team," said Schollum. "They had a very successful championship last year and were clearly the dominant outfit of the series. However, the more successful you are, the more hard work you have to do to remain successful.
"It's a great opportunity for any driver - five weeks of very intense racing in the northern hemisphere off season, there is no better preparation really for their own home championships.
"I've done quite a bit in the States and been quite successful. On returning to New Zealand and after taking a bunch of time off, Mark called to see if I wanted to get involved and do the winter rebuilds on the cars."
It's turned out to be a good situation all around for the M2 crew as Pilcher can now concentrate on his other ventures comfortable in the knowledge a proven winner is looking after the team's numerous cars. With Schollum looking after the mechanicals now, M2 will avoid the mad rush later in the year trying to get all the cars ready in time for the first round next January.
Also joining the team will be successful open wheel and sports car racer Chris van der Drift, who acts as an engineer and driver coach for the squad.
M2 Competition plans to announce its 2014-driver line-up in the coming months with drivers from Europe, NZ and Australia expecting to compete under the M2 banner, including the possible return of Steijn Schothorst and Dennis Olsen.