Teammates given green light to continue battle as others take flak for enforcing team orders.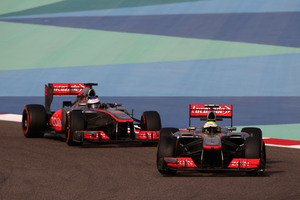 McLaren team principal Martin Whitmarsh has admitted he ignored pressure from his team to halt Formula One's latest teammate bust-up.
Following Sunday's Bahrain Grand Prix, Jenson Button labelled fellow McLaren driver Sergio Perez dangerous and suggested the Mexican would cause an accident if he failed to calm down.
Button was left fuming with Perez's driving as the 23-year-old first clipped the Briton from behind, losing part of his front wing, and then touched wheels at high speed, with both fortunate to avoid a major incident.
Button twice went on to the team radio to voice his anger and Whitmarsh has admitted to being badgered by his colleagues on the pit wall to bring a halt to the battle.
But living by the creed at McLaren that both drivers are equal and free to race - unlike at Red Bull and Mercedes where team orders were issued in Malaysia and caused such a stir - Whitmarsh stood by his guns.
"I had a lot of noise in my ear, people saying stop this, it's hurting us, suggesting I stop them racing," said Whitmarsh.
"I know it could have gone horribly wrong. On balance it was the right thing in the long term for both drivers to know they are racing each other and are competitive.
"If I were Jenson I'd be p****d off as well. But they are good guys and they'll work it out." Meanwhile, Formula One commercial supremo Bernie Ecclestone talked of a five-year extension to Bahrain's race contract and the possibility of switching it to the start of the season next year. Sunday's race, won by Sebastian Vettel, went off without incident despite fears about political protests.
"I feel they do a super job. I don't see any problems," said Ecclestone.
- Independent