Meet the Car of the Future, changing the way they race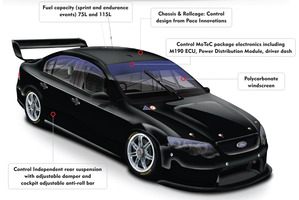 A lot has been written and said about the V8 Supercars Car of the Future and this weekend New Zealand fans will get their chance to check them out.
The V8s have been popular worldwide for about 17 years. When the current Ford versus Holden format was introduced in 1993, one of the mandates was to keep racing relatively cost-efficient.
The German Touring Car (DTM) was at the cutting edge of saloon car racing, while Nascar was right at the other end. The Aussie V8s, positioned in the middle, have provided great racing up until now.
"We did a very comprehensive industry review and came out with some real findings," says Australian touring car driver, Mark Skaife. "We needed to be more in touch with car companies and retain manufacturers' DNA, and authenticity really needed to be preserved."
Fans of the series were assured it wouldn't turn into a Nascar look-alike in which the cars are much the same with only the badges different.
All COTF cars have the same floor plan and homologated items, but are skinned like showroom models. Manufacturers joining the fray must wheel out exact showroom replicas.
David Reynolds' and Scott Pye's cars suffered heavy damage in Tasmania last weekend, but neither driver was injured due to the safety features of the new car. The fuel tank has been moved forward inside the main chassis. That means the fireball which engulfed Karl Reindler's car at Barbagallo last season would be less likely in a rear-end collision.
A collapsible steering column, new fire extinguisher system and added sidewall protection are COTF features; the windscreen is polycarbonate. Overall weight has dropped by about 100kg and 18-inch tyres will be introduced.
Engines have been moved 100mm back for safety and cost reduction if damaged. Independent rear suspension and a transaxle gearbox will also be new features.
Having an independent rear suspension will attract more European drivers to endurance rounds, as cars will be more aligned to World Touring Car Championship and DTM specs. This is the car the category wants for the next 10 years and costs have been reduced.
The playing field for teams on small budgets will even out, as money won't buy speed. Winning will depend more on driver skill.
"One of the things COTF does is that it increases the market relevance of the cars in the motoring world," says Skaife.
"The current regulations have been in place since 1993 and very few categories can boast that sort of technical stability over almost 20 years. This is just an evolution of them.
"We have applied a proper business case analysis in an effort to curb dollars spent, as the cost of winning a championship has roughly doubled in the last 15 years."

Click on the interactive below to learn about the ins and outs of the new V8 Supercar.