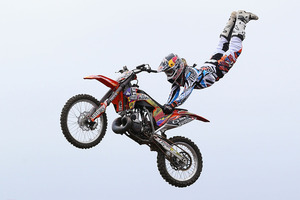 The Moto X Best Trick and Snowmobile Best Trick events at X Games are being discontinued, ESPN announced yesterday.
The decision to discontinue the Best Trick events follows an investigation into the death of Snowmobile Best Trick competitor Caleb Moore in January, according to an ESPN spokesman.
Moore died of head and heart injuries sustained during the Snowmobile Freestyle competition at X Games Aspen 2013, where he under-rotated a backflip attempt and crumpled under the weight of his tumbling snowmobile.
A Freestyle Snowmobile demonstration previously scheduled for next week at X Games Tignes in France had previously been canceled a month before Tuesday's announcement.
"Moto X Best Trick and Snowmobile Best Trick were not dropped in response to what happened in Aspen," an ESPN spokesman said. "This decision was under consideration before Aspen, and, in fact, our review of Snowmobile Freestyle continues."
Kiwis Freestyle Motocross champion Levi Sherwood knows all about the challenges involved with performing dangerous tricks after clinching the Global X-Fighters championship last year.
Sherwood currently sits in third place in the 2013 X-Fighters, after earning 65 points in the first leg of his title defence in Mexico.
Sherwood will be in action again on April 12 in Dubai.