National champ Ben Townley will have his work cut out for him at this year's Summercross, writes Andy McGechan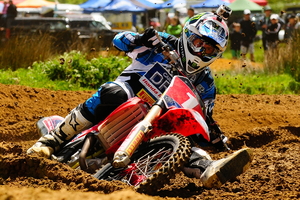 Picking a winner for next month's annual Whakatane Summercross has probably never been so cut and dried, but don't think that will make the event any less exciting - quite the contrary.
While the list of potential winners is as long as it is illustrious, few pundits will be looking too far past Tauranga international Ben Townley - Honda's national MX1 class champion who has been virtually unbeatable at home recently.
The Honda-sponsored Summercross - set for December 29-30 - will celebrate its 41st birthday as one of New Zealand's premier stand-alone motocross events. Each year Summercross attracts all the nation's elite racers, and again this year the list of talent is truly mind-boggling with an abundance of national champions, a couple of former Australian and world champions, and a multitude of riders who have made waves in Europe and the United States.
There is also racing for the sport's up-and-comers and for former greats, with competitors ranging in age from 4 and 5, right through to veterans in their 60s.
One of the key drawcard riders, former world motocross champion and American supercross champ Townley, is hoping that he will again make this event his own.
Townley won the five races from five starts in the premier grade at last year's Summercross, but the Honda star will need to be at his best again this December with an impressive line-up of big-bike talent set to challenge him.
Also expected to push hard for MX1 class domination will be Mount Maunganui's former national MX1 champion Cody Cooper (Suzuki), 2010 Summercross winner Michael Phillips (Honda), of Rotorua, Christchurch's former national MX1 champion Justin McDonald (Honda) and a couple of yet-to-be-named riders from Australia and Europe.
With racing over two days - juniors and minis on the first day of competition on Saturday, December 29, with seniors racing the following day - the Honda Summercross is again expected to attract a bumper crop of New Zealand's elite, including Hamilton's national MX2 champion Darryll King (Yamaha), Waitakere's Ethan Martens (Yamaha), Queenstown's Scotty Columb (Yamaha), Tauranga's perennial front-runner Peter Broxholme (Honda), Mount Maunganui's Rhys Carter (Suzuki), Mangakino's BikesportNZ.com KTM rider Kayne Lamont and Taupo's Nick Saunders (Kawasaki), to name just a few.
Honda will have a huge presence with Townley, Phillips, McDonald and Broxholme to be joined by leading Taupo pair Cam Dillon and Brad Groombridge, Whakatane brothers Mitchell and Damon Rees, Rangiora's Micah McGoldrick, Te Awamutu's Ryan Thompson, Auckland's James Ainsworth, Hawke's Bay's Kieran Scheele and Masterton's Bjarne Frederiksen.
Dillon won the MX2 class at last year's Summercross and has shown enough speed to rate him among the 250cc class favourites.