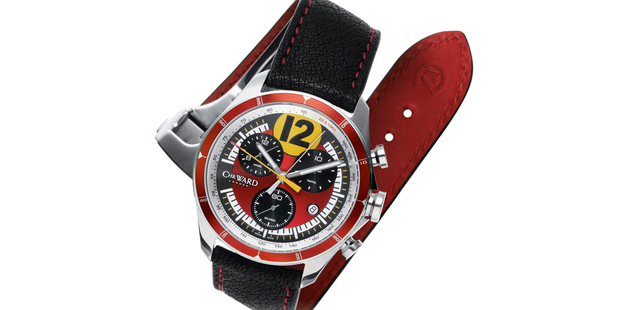 The Good Oil readily admits that, along with cars and electronic gadgets, we have a special place in our hearts for a good watch, but even non-watch-fan car people would love this bad boy.
While our current favourite is the Samsung Galaxy Gear "smart watch" that pairs up with a Samsung smartphone and does clever, nerdy, techy things that make us giggle like schoolgirls, the latest timepiece from Christopher Ward, the C70 3527 GT, ignores all that modern nonsense in favour of something far more mouth-watering - part of it is made of metal taken from a Ferrari 250 GTO!
It seems that when Scottish nobleman Baron Irvine Laidlaw bought a GTO in 2005 (chassis number 3527 GT, hence the watch's name), several rusted, damaged body panels had to be replaced.
A company that, rather oddly, specialises in recycling that sort of thing - TMB Artmetal - acquired the discarded metal and partnered Christopher Ward in creating the limited-edition watch.
The metal was used to make the back plate and is laser-etched with a number 6 in homage to the car's "6 GTO" number plate.
The watch is powered by an ETA thermo-compensated, COSC-certified 251.233 calibre chronograph movement and features a black Italian leather strap with red stitching and lining, with Christopher Ward's patented clasp mechanism.
Only 100 of the watches will be made. They will be available in October at US$2950 ($3482), which is quite a bit for a watch, but small change compared to the tens of millions that GTOs are selling for at the moment.
We are the world
• Here is a sentence we honestly never imagined we would write: a highly intoxicated woman in the US recently crashed her Prius into a fire station with a stolen python draped around her neck. Yes, this is true. Sarah Espinosa, 22, crashed her Prius into the New Hyde Park Fire Department building after stealing the python from a pet shop. She was arrested and charged with "second-degree reckless endangerment, reckless driving, driving while intoxicated, unlawful possession of marijuana, and petty larceny".

• Sick of road works in your area? Got a bit of spare land? Why not do what a UK man did and build your own toll road detour around the works? John Dinham had been letting local 4WD owners use his paddock to bypass a slip that had closed the A431 highway between Bristol and Bath, when he noticed drivers in regular cars were trying to use it as well - and getting stuck. Dinham's friend, Mike Watts, saw a financial opportunity in this and dropped £150,000 (NZ$297,280) of his own money building a private road and charging cars £2 ($3.94) to use it, knocking an hour off the previous detour. Local authorities are said to be largely unamused by it.
It's your last chance ...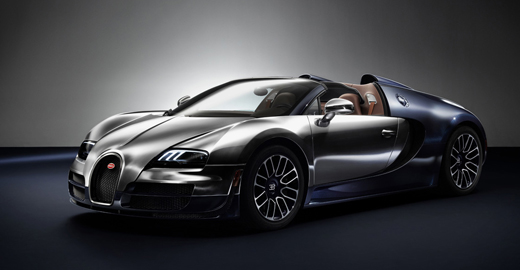 The Gran Sport Vitesse Legend will be among the last few Veyrons produced by Bugatti.
Speaking of rare and desirable things, it seems that one of the rarest and most desirable new cars available is about to run out, with only 15 Bugatti Veyrons reported to be left on the shelves (probably not actually shelves ... ) at Volkswagen's supercar subsidiary.
According to UK magazine Autocar Bugatti has delivered 405 examples of the Veyron, out of the total of just 450 it promised to build. A further 30 are in the order books, leaving 15 to be snapped up.
Three of those will make up the final series of the "Les Légendes de Bugatti" series that has just been revealed at Pebble Beach and will be dedicated to Ettore Bugatti.
The Veyron Gran Sport Vitesse Legend edition is a particularly handsome combination of hand-polished aluminium (the nose and doors) and blue carbon fibre (the sills and rear), with a leather-trimmed cockpit that also features the blue carbon fibre.
The three cars will cost €2.35 million each ($3.7 million) and will no-doubt be an instant sellout (like all the previous Legend cars), leaving just the 12 cars waiting to be produced.
It's your last chance. Go on, you know you want one ...
Students convert Beemer into ute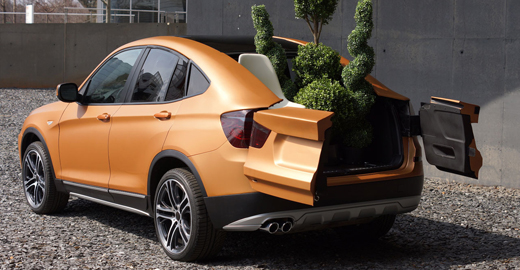 The Deep Orange 4 concept.
If you have ever admired the shape of the BMW X6 or the new smaller X4, but thought to yourself "I do like that, but would like something with a bit more useable space in the rear", then buy an X3 or an X5, you idiot.
If, however, the obvious hadn't occurred to you, then this concept from the students at Clemson University's International Centre for Automotive Research could be just the thing you are looking for.
The Deep Orange 4 concept (nope, no idea why it is called that) features an enclosed rear cargo area with a sliding glass panel that gives access to the ute-style tray if more room is needed.
Rather impressively this "ute-crossover" could actually be produced by BMW. It seems that the students conducted an "in-plant analysis" of BMW's manufacturing abilities and then created a plan for a low-volume vehicle that could actually be built.
Rather than being an X4 with the roof chopped off, Deep Orange 4 is actually an X3 that the students grafted the trick roof and twin barn-style doors on to. Perfect if you crave the space of an X3 but desire the roofline of the X4.
A small niche market, to be sure. But being a small niche has never stopped BMW jamming a model into it before.
Number Crunching
184 Miles per hour
Speed record Burt Munro set in 1967 on his 1920 Indian streamliner on the Bonneville salt flats.
184.087 Miles per hour
The current Class S.A.1000 speed record, set by ... Burt Munro on his 1920 Indian streamliner!
47 Years
Between Burt setting his original record and being credited for a new one this year after his son, John, noticed an error in the calculation of Burt's average speed.
36 Years
Since Burt Munro died. And he is still setting records. What a legend!