Damien O'Carroll is charmed by a sexy four-door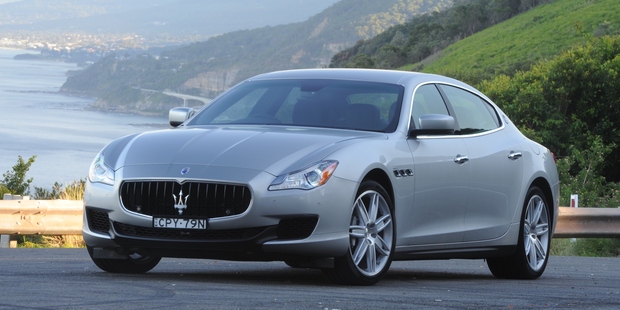 When I think of Maseratis, I think of sleek, sexy shapes, undeniable Italian style and screaming, highly-strung six, eight and 12-cylinder petrol engines.
The newest member of the Quattroporte family certainly has two out of three. But the third -- the screaming petrol 6, 8 or 12 -- is most definitely absent. The newest Maserati Quattroporte to land on these shores is powered by a 3-litre V6 turbo diesel engine. That's right, diesel, the fuel of tractors and utes.
But, let's face it, that hasn't been true for some time. Diesel is also the fuel of some of the most satisfying driver's cars on the market today. The big torque that comes from a compression ignition powerplant makes diesel particularly well-suited to luxury performance-oriented cars, something that the Germans, in particular, have embraced.
So it makes sense that Maserati also embrace the big torque rattle of a diesel engine -- if Porsche can do it, then Maserati sure should be able to get away with it. But here's the thing -- it just doesn't feel right.
I am a huge diesel fan. I love the almost instantaneous torque characteristics of a powerful diesel engine and always get a huge kick out of the serious performance with a tiny fuel consumption compared to petrol plants.
So with that love of diesel mixed with the trepidation of it not quite sitting right with a Maserati, I approached the Quattroporte Diesel hoping I would be proved wrong.
And, as is usually the case, I was very wrong indeed. Looking at the Quattroporte Diesel, you wouldn't pick it to be any different from its petrol counterparts, as there are no exterior visual clues to give away its diesely secret.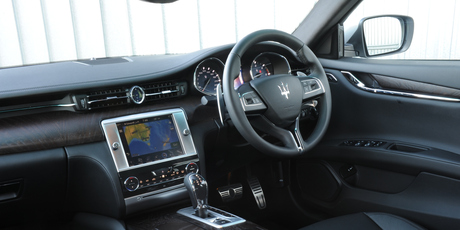 Even when you fire it up you have to be in the right place to guess its motive power. From the inside it has a subtle, but distinctive rumble that is most un-diesel-ish, and outside at the back the exhaust pipes emit a big V8-ish throb. It is only at the front that you can hear a distinctly diesely rattle coming from under the bonnet.
On the move the rumble present at idle inside the car becomes a deep, sonorous growl that, while never loud, is deeply satisfying. And in these days of artificial noise being pumped into cars, is refreshingly a completely natural result of fuel combusting in the cylinders.
The VW Motori diesel V6 is a version built for Maserati and has a resonator box that improves the growl and enables it to be increased when the big Quattroporte is put in "sport" mode via a button on the centre console. This boosts the noise inside and out, as well as sharpening transmission and throttle responses.
The diesel-powered car now starts the Quattroporte range at $169,900. Its spec almost mirrors that of the petrol V6 Quattroporte S, with a few small exceptions.

The single variable geometry turbo 3-litre VM Motori diesel V6 pumps out 202kW of power and a big 600Nm of torque and is hooked up to the excellent ZF 8-speed automatic transmission used in all Quattroportes.
The diesel comes standard with 19-inch alloy wheels, adaptive bi-xenon headlights with a high-pressure washing system, heated windscreen washer nozzles, a chilled centre console box, aluminium gear shift paddles mounted on the steering column, electrically-adjustable and heated front seats, an electrically-adjustable steering wheel with multi-function controls, a powered rear sunshade, dual zone climate control, an 8.4-inch touchscreen that controls audio, navigation, climate control, car set up and mobile phones and lots of wood and leather.
On the road it is instantly noticeable that the diesel engine changes the character of the Quattroporte. Nailing the throttle in the V8 produces an eruption of noise and fury; in the diesel the result is more like the relentlessly implacable insistence of a tsunami -- a huge wave of torque that pushes the Quattroporte forwards with commanding authority and effortless ease.
The deep, resonant growl becomes more determined and menacing, and the big wave of torque pushes you back in the seat as the car surges forward.
It may not have the furiously angry acceleration of the V8, but the determined surge of the diesel is deeply impressive in its own way.
It gives the Quattroporte a more relaxed, more luxurious demeanour that befits a continent-crushing uber-limo completely in its element eating up huge distances at high speeds.
That is not to say the diesel Quattroporte can't tackle a corner, because it is every bit as sporty and capable as the rest of the range. The huge tyres do feel everything the road throws up (and can make low speed manoeuvres a bit cumbersome) but the thoroughly excellent Skyhook suspension takes it all in its stride -- the Quattroporte is firm, but even over the worst roads New South Wales had to inflict on it (and some of them were truly terrible) it never lost composure or felt anything less than comfortable and compliant.
The huge rubber provides almost endless grip through corners (unless you choose to unleash the big torque mid-corner, that is ... ) and turn in is surprisingly sharp and immensely accurate and satisfying.
"Immensely satisfying" is a nicely accurate way to sum up the Quattroporte Diesel. It is a big, spacious luxury car that is comfortable and refined, yet is capable of stupidly high speeds and sports car-like silliness through the corners. The diesel engine brings a more laid-back attitude, but also adds remarkable frugality (a combined figure of 6.2L/100km) that belies its performance (0 to 100km/h in 6.4 seconds).
Its price, huge range and effortless demeanour will all no doubt appeal to a lot of people, even over the volcanic V8 model, and that fact that it is as luxurious, sporty and looks every bit as purposeful and utterly sexy as every other Maserati adds to its charms.