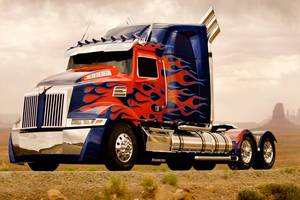 Ever wanted to go for a ride in Optimus Prime? Well you can't, at least not any more -- but you could, if you lived in Dallas, Phoenix or Los Angeles.
How, you may ask, was this possible? Well, it seems that the makers of Transformers: Age of Extinction, the fourth instalment of Michael Bay's childhood-destroying franchise, teamed up with ridesharing service Uber to offer lucky users the opportunity to live their childhood dreams (well, ours ... ) and catch a ride to their destination in the heavily customised Western Star that serves as the Autobot leader's vehicle form in the film.
Uber has done promotions like this before, notably with a DeLorean DMC-12 in full Back to the Future time-machine guise, as well as other, more unusual offerings such as a kitten delivery service for National Cat Day which included 15 minutes of playtime with kittens, plus cupcakes and T-shirts, the proceeds going to local animal shelters.
Off-road game a hit
Where most off-road games are along the lines of heavily arcade-style racers, a new one has come along that does the exact opposite and provides a remarkably realistic simulation of driving off road, with all the care and skill that entails.
While this may not sound the most exciting concept for a video game - going very slowly, being very careful - the idea behind Spintires seems to have caught the imagination of the PC gaming brigade and it has taken off, briefly holding the top sales slot on the popular game-distribution platform Steam.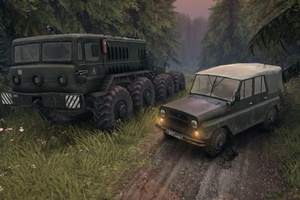 Spintires features incredibly realistic physics and real-time deformable terrain (in other words, very, very realistic mud!) and has the player driving large Soviet-era all-terrain trucks over an open-world map with only a map and compass to guide them.
In other words, this is a proper, hardcore off-road challenge - just driving straight ahead will have you bogged down in literally seconds. The player can engage 4WD and a diff lock and even has access to the handbrake and a winch - which will be needed.
While it is not the most action-packed adrenalin thrill-ride, the sheer accuracy and attention to detail in Spintires has The Good Oil very intrigued - imagine the fun of off-roading without all the mud and "expert advice". That sounds like something we could really enjoy ...
We are the world
• The city of Tucson, Arizona, is out of pocket to the tune of US$43,800 ($50,000) following a small fender-bender involving one of their police officers. It seems the hapless plod drove into the back of another car damaging its rear bumper, exhaust pipe and a tail light. So why the huge bill for such a seemingly small accident? The car in question was a Porsche Carrera GT.
• Things didn't go much better for a Chinese firefighter after he decided to go for a drive in the country "to see green fields and trees". It seems he did two things wrong; first, he decided to take his department's brand new $975,000 fire truck, and second, he was drunk when he did it. Needless to say he not only managed to destroy the brand new machine, he is also no longer a firefighter.
C'mon readers, let's go!
The Lego Lotus (above) and Lego Ferrari (left) could soon be available if enough fans contact the manufacturer to take them from the concept stage.
Okay, so it may sometimes seem The Good Oil is somewhat obsessed by Lego, but we can assure you that this isn't really the case - it's just that Lego keeps on putting out cool car stuff!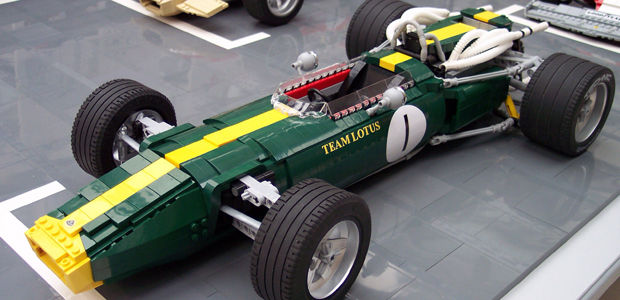 This time round it is not actually a kit you can buy, but rather one
you can vote to actually be produced.
Lego Ideas is a website where fans can submit ideas for new Lego kits, and so far has given us the utterly brilliant Back to the Future DeLorean kit and the more recent Ghostbusters ECTO-1 kit.
It seems a user who goes by the name of RoscoPC has submitted these fantastic Formula One models as concepts, and The Good Oil would very much like to have these.
RoscoPC submitted a Lotus 43, a McLaren MP4-4 and a Ferrari 312T a few years back, but has never reached the 10,000 votes needed for them to be considered for production.
Anyway, if you want to vote for the cars you can head over to the Lego Ideas (ideas.lego.com) website and sign up to vote. Forget this silly election business, this is something you really need to care about.
Electric jolt turns muscle car into a Black Zombie


Pictures / Zombie222.com
So when you hear that a company called Blood Shed Motors has built up a 1500kW Ford Mustang dubbed the Black Zombie, you can't help but imagine tyre smoke and a feral V8 roar accompanying it everywhere.
Except you would be only half right. That's because Blood Shed Motors specialises in jamming electric drivetrains into classic muscle cars, and Black Zombie is their first product.
While the 1500kW output was for a one-off display at a drag strip, the "regular" Zombie 222 electric drivetrain will still pack a fairly serious 560kW from its twin Warp 11 DC motors and Blood Shed Motors plans to build a limited number of "high-quality muscle car conversions" based on early Mustangs, Camaros and Plymouth Barracudas.
The cars can be customised to owners' tastes but prices will always be in the "eye-watering" territory, regardless of restraint, with US$200,000 ($230,000) the expected starting price.
Number Crunching
410 MILLION
Most expensive car accident: a car in Germany hit a fuel tanker and the explosion took out the bridge they were on.
63 MILLION
Tiger Woods' accident may have not done all that much damage to his Escalade, but this is how much it actually cost him ...
34 MILLION
The cost of the accident when an American investor crashed his Ferrari 250 GTO.
3.41 MILLION
The estimated cost of a 14-car crash in Japan, including eight Ferraris, one Lamborghini and a Toyota Prius.