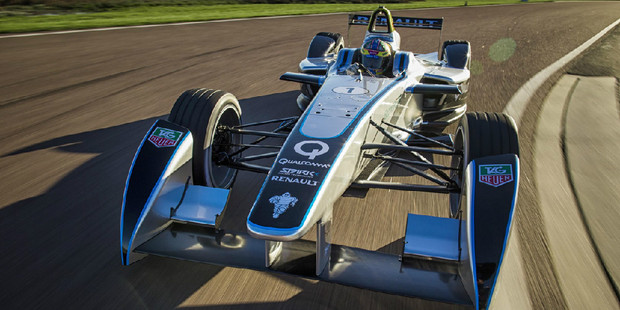 In an idea that could well be a stroke of genius or backfire magnificently, the new Formula E racing series that kicks off in Beijing this September is using social media to power the cars. Literally.
The new series for all-electric, open-wheelers sees the identical cars using an electric motor with an output of 200kW, but during the race it is limited to 133kW. Each car is allowed two power boosts per race that gives them the full 200kW, but now it has been announced that there will be a third boost allowed on the final lap -- but it will be based on how many @ mentions the driver gets on Twitter during the race.
Formula E boss Alejandro Agag told www.qz.com: "We need to target a different demographic." Than Formula 1, he means. Formula E is targeting 20- to 30-somethings who are more likely to buy an electric car and are more likely to use social media. Something F1 boss Bernie Ecclestone is completely missing, because -- in his words -- nobody is paying him to use it.
We are the world
*Residents of the British village of Summercourt have dubbed the area "The Summercourt Triangle" after a series of bizarre incidents involving their cars' central locking systems. Apparently several residents have reported their cars locking and unlocking themselves at random, even while they are driving them. Apparently this could be caused by accidental radio interference, which an expert in the field said could be caused by "almost anything wireless". Not an over-reaction to name the area after another area that has seen countless ships and planes go missing then ...
*A pig in southern China has created the latest internet sensation after its bold bid for freedom was captured by an onlooker. The pig was in a moving truck on a busy road when it launched its escape from the top of the moving vehicle. It quickly regained its footing and made good its escape. Alas, its freedom was short-lived because the driver apparently recaptured the wayward escaper. Good on him for giving it a go though.

Brick-tastic Mini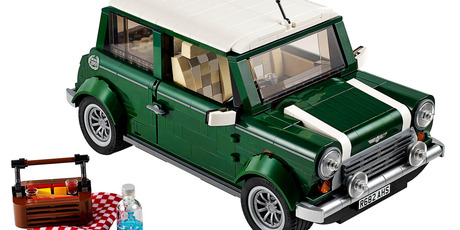 Two things that The Good Oil has a particularly nostalgic fondness for are Lego and the original Mini.
So it is no surprise that we were overcome with joy and a desperate desire to acquire the release from Lego that will be appearing in August - a Mini Cooper.
The Lego Mini is based on the MKVII Cooper (essentially the last of the original Minis) and while it clocks in at a compact 110 X 250 X 140mm (as a true Mini should), a huge number of pieces are part of that small package - 1077 of them to be exact.
There is an incredible amount of detail in the Lego Mini as well. The 1.3-litre engine has twin SU carbs, and there is a moveable steering wheel, gearstick and handbrake - and even a picnic basket and blanket in the boot.
The Lego Mini will be priced at $180 when it goes on sale locally on August 1.
Sorry Dubai ...
Okay, so we have bought more than a fair share of silly, excessive cop cars in the past, but somehow we think this one is the silliest and most excessive of the lot.

The Italian police may have Lamborghinis, the German police Porsches and the Dubai rozzers have all sorts of exotic multi-million dollar super cars to cruise around in, but the Avon and Somerset Constabulary in Britain are now in possession of the most ridiculous police car of them all - an Ariel Atom 3.5R.
Ariel is based in Somerset, so the connection makes sense, but why an Atom? Well it seems the Atom is all part of an operation targeting speeding motorcyclists, and seeing that the Atom is actually faster than a lot of motorcycles out there, they have a valid point. Ariel has even fitted the special Atom PL1 (as it is being called) with Hella aerodynamic pursuit lights and emergency equipment, as well as a police livery.
But it must be pointed out that the Avon and Somerset Constabulary - and no doubt even Ariel - realise that the Atom is a completely ridiculous patrol car and that the PL1 is, in fact, a promotional car to raise awareness that police are targeting speeding motorcycles.
Probably just as well, really. It would take a particularly strong-willed officer to not just overtake and keep going once he had caught up to a speeding bike, just to prove a point.

Tesla can't bring sexy back
Tesla pulled the trademark application with Musk saying that 'Ford tried to kill sex'.
Tesla Motors CEO Elon Musk with Model S sedans.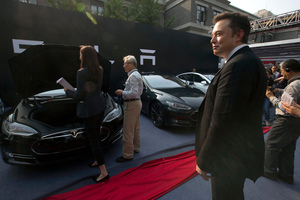 Ford has killed off what would potentially be the best model range naming structure in the history of cars by threatening to sue Tesla when it applied for a trademark on the "Model E" name.
Quite why Ford threatened to sue over the name is a bit of a mystery, but why Tesla wanted the name is simply brilliant - apparently a friend asked Tesla co-founder and CEO Elon Musk what his next car would be called after the Model S and the forthcoming Model X SUV. Musk jokingly said "E" and the name stuck.
So Tesla applied for a trademark on the name "Model E" (and while they were at it also went for "Model Y") in the (half joking/half serious) hope of having S, E, X and eventually Y as their model line-up.
Ford's reasons for threatening to sue Tesla over the name are not exactly clear.
They never made any noise over Tesla calling its cars "Model" and then a letter (like Ford's Model T and Model A) before, and the only "E" in the Ford line-up is a defunct range of E Series vans.
Still, Tesla pulled the trademark application with Musk saying that "Ford tried to kill sex".
Damn you Ford.

Number Crunching
915 MILLION
The exact number of ways six eight-stud (2X4) Lego bricks can be combined.
45.7 BILLION
The number of Lego bricks produced in 2012.
4 BILLION
The number of Lego minifigures produced since 1978.
3 EVENINGS
The amount of time it took The Good Oil to assemble the Lego VW Kombi.