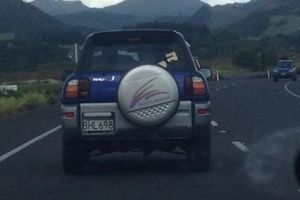 Last week we ran a story called 'Crashes that hit the funny bone', about entertaining motor accidents where nobody was seriously hurt. We received a few good stories via our Facebook page facebook.com/DrivenNZ and here's some of the best.
*I took second-hand (£65) Norton 500cc sidecar outfit for test run down windy lane. It didn't bank round the turns like my solo. Up came the sidecar and from the thorny hedge I watched it cartwheel down the road. Returned it to the garage as unsuitable but seeing the blood streaming down my face the proprietor thought we ought to go and check it out. Smashed, screen, headlamps, bent forks. £80 of repairs. John via Facebook

*Was working in Felix St in Onehunga. One of the young lads was into cubes, the more the better.
He could always be egged on to put the boot in as he left work. One night he had borrowed a friends car and with our encouragement lit it up as he headed down Felix St toward rush hour traffic on Mt Smart Rd. Imagine his surprise, when the throttle jammed wide open and our amazement, as with both brakes and throttle on full, and with a screech of confused tires, he shot across the double lanes of traffic to lodge his vehicle in the boot of an innocent car parked until very recently in its carport. No injuries apart from to egos. Concerned about damage to his friends vehicle we asked our lad how he would broach the subject with his mate "Well," he said" he should never have lent it to me if it wasn't safe to drive!" Paul via Facebook

*Riding my 50cc scooter home through Petone, Lower Hutt, in the early hours of Sunday morning, I encountered two single mattresses in the middle of an intersection. I remain confused as to whether someone set up a "joke" and then went away, or if they fell off a vehicle (at 3am? why?). Maybe the plan was to set them on fire, but the party broke up and everyone forgot about it? We'll never know. Anyway, you would think that a mattress would be the best possible unexpected obstacle to run into, but unfortunately, while my scooter collided squarely with the mattress, my body managed to miss it completely. Thanks to an engineering department somewhere for modern helmets.Megan via our Facebook page.
*Our neighbour, an 85 year old lady lost her license due to bad vision and ill health. She went through hell and high water to prove she can still drive and after lots of effort they reinstated her license on the condition that she only drives inside our small towns boundary.
An hour after getting her license back, she was parked in front of the local bank, put the car in "reverse" looked back and put her foot on the pedal next minute she was over the kurb 10m over a walkway through the banks glass doors. Later the afternoon before we knew about the accident, we heard a knock on the door and here she was telling us " by the way, if you hear about someone driving through the bank - it was me!" "But don't worry I gave my license to the cop on the scene ".Josh via Facebook

*My dad told us all of the time when he was a policeman based at the old Wharf Police station and there was a bloke that turned up at the front counter saying there had been an accident outside and a bike was stuck. Dad went outside to see another bloke sitting in the gutter, uninjured and his motorcycle standing bolt upright with its wheels stuck in the old train tracks that were common on Quay St. It was quite jammed but they got it out. It turns out the bike and rider parted company when the rider leaned to go one way and the bike was set on a different course. A few years later when I was a motorcycle cop working the city I would always avoid the area, particularly in the wet, and was relieved when the lines were removed.Sandy from Australia.
Finally, here's a story we received but the person involved doesn't want their name involved. Read on and find out why!
I was selling Ducatis in Auckland a few years ago when the following bizarre motorcycle accident took place. A South African customer, who assured me he could handle the power, purchased a new bike. I stressed he should watch out on his new tyres but maybe should have stressed the point harder.
A few minutes after he'd roared away I got a call on my mobile saying he'd crashed. I trotted in the direction he'd disappeared, but couldn't see where he was, even after looking down several side streets. A few minutes later I spotted police lights flashing outside a nearby brothel.
The bike had hit the curb and smashed through the front window of this establishment, which was above a low concrete wall. The bike frame was broken at the stem, but my customer was just a bit shaken and bruised. The police and I picked him up and began pulling the bike out of the window.
Next thing a man pulling on a dressing gown and accompanied by some scantily clad young Asian women came scuttling down the stairs demanding to know what was going on. It was the proprietor, who was aghast at the damage his business had suffered. I assured him (since I'd written up the sales agreement only minutes previously) that the bike was insured and so the insurance company would, "take care of everything". As I recall it, that's exactly what happened, the bike was written off; the building got repaired by the insurance company and my customer got himself another new Ducati.
I've often wondered since then why it took so long for the owner to come down the stairs. Was he getting rid of something that shouldn't have been there . . . or perhaps showing employees without the proper papers out the back door. Of course, we'll never know.